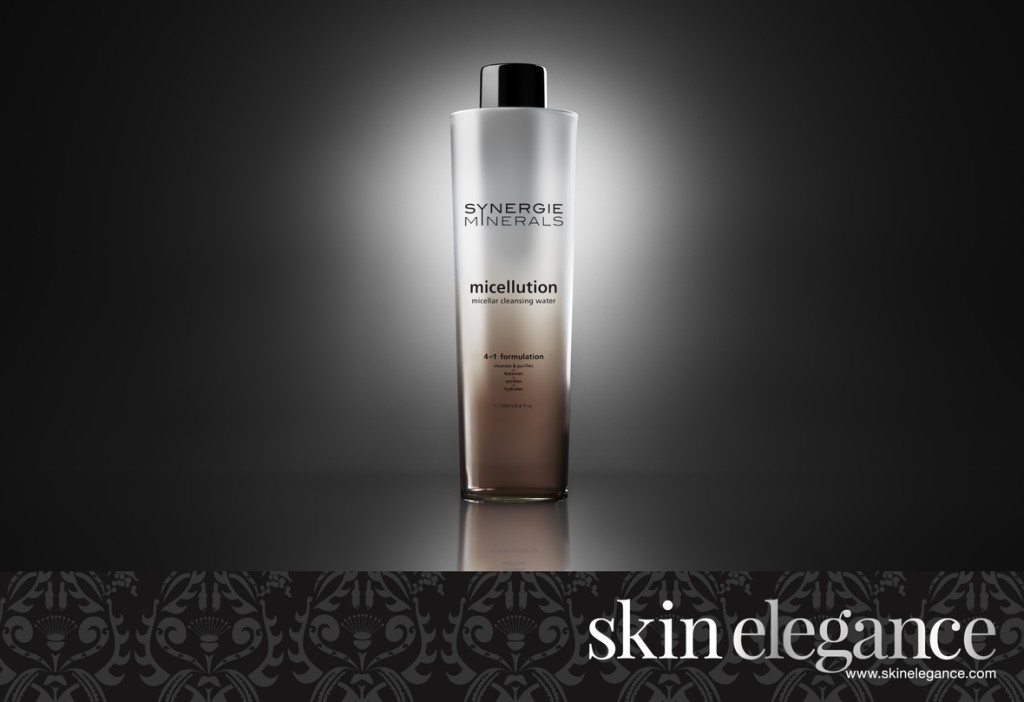 [ad_1]
Aesthetic Everything Featured Product
Introducing Micellution
'ON-THE-GO' CLEANSER AND MAKEUP ARTISTS' BEST FRIEND
distributed by Skin Elegance International LLC
"Thou shalt cleanse before bedtime" is a skincare commandment that should always be obeyed – but at the end of a busy day do you always have the time and energy to follow your cleansing ritual?
Skin Elegance International is proud to introduce Synergie Micellution to the US market, the latest go-to makeup product from Synergie Minerals® that will totally revolutionize your cleansing routine.
Micellution is a gentle 4-in-1 micellar cleansing water that will effectively remove traces of makeup, oil build-up, and impurities from the skin. In a few sweeps, skin is cleansed without harsh stripping, leaving it purified, balanced, soothed, and hydrated.
There's no need to rinse, making it a perfect on-the-go cleanser: makeup artists need look no further for a gently and effective makeup remover; and any client looking for a color match foundation or makeup can now benefit from a fuss-free cleanse in the salon chair.
Micellution follows the Synergie Clean Science® philosophy, which means it's formulated without PEGs, parabens, irritating surfactants such as SLSs/SLESs, or artificial fragrance or colors. The calming solution makes it a skin-nurturing alternative to the harsh traditional face wipe. It is suitable for all skin types (including sensitive skin) and gentle enough to use on the eyes and lips.
"Clients have been asking for a simple, safe, and effective makeup remover and I listened. There are so many of us who are time-poor and simply don't always have time for the usual cleansing routine. Synergie Micellution is a lifesaver at the end of a busy day, and is perfect for travelling and late nights."
– Synergie founder and formulator, Terri Vinson, BSc, Dip Form Chem, Dip Ed, ASCC, AACDS.
Key ingredients
▪ Witch hazel, a natural astringent that reduces inflammation and sanitises the skin. Also aids with hydration and stabilises the barrier function of the skin.
▪ Sodium PCA, a deep hydrator that acts like a 'water magnet'.
▪ Canadian willowherb, an anti-irritant and anti-redness ingredient for all skin types.
▪ Aloe vera, a powerful anti-inflammatory to calm sensitive skin. Traditionally used to relieve irritation of burns, and moisturize the skin to promote wound healing.
Micellution is truly the Clean Science® solution to cleansing the face without water.
Product size: 250ml/8.45 fl oz
MSRP: $59
About Skin Elegance International LLC:
Synergie Skin®, Synergie Practitioner, and Synergie Minerals® makeup are distributed exclusively in the USA by Skin Elegance International LLC to salons, clinics and medi-spas, and are available online from www.skinelegance.com.
About Synergie:
Synergie is formulated by Terri Vinson, BSc, Dip Ed, ASCC, AACDS. It is formulated, manufactured, and packaged at Terri's boutique laboratory and production facility in Melbourne, Australia, where it has been available for 10 years. It has been introduced to the USA this year by Skin Elegance. See www.synergieskin.com.
For all inquiries, please contact:
Dr Tracey Lambert, CEO, Skin Elegance International LLC
tracey@skinelegance.com
0800 989 SKIN/7546
P.O. Box 661489, Los Angeles, CA 90066
You can be a Featured Doctor or Featured Company with Aesthetic Everything. Inquire by e-mailing vanessa@aestheticeverything.com.
This message brought to you by Beauty Wire, the new magazine from Aesthetic Everything, and Aesthetic Agency. If you would like your news shared with the aesthetic industry, please request a quote from Vanessa.
[ad_2]
Source by Beauty Wire Editors