Hi Everyone!
Some people had contacted us that they are having trouble voting.
We have fixed the form and all should be better to understand now.
PLEASE only vote one time per person per category. Any votes that are multiples will be deleted.
We added some new categories to the list and can add more as requested. Please check the drop down box "I am voting this nominee for.." for the new categories.
There will not be any of your names or company names in the list to vote for "you" in particular. You must have your voters enter your name as the nominee, or your brand, your business, your company, etc. We cannot create a form that has a list of everyone's names, as that would include over 50,000 names. All other info is optional, but please be clear with at least one vote so that we know how to contact the winner. In many cases, vote for yourself at least one time so we can get all of your information before posting for your fans to vote.
YOU HAVE 21 DAY LEFT TO VOTE!
VOTING ENDS on September 1st, 2017 at 11:59 pm
WINNERS ANNOUNCED on September 18th, 2017 at 12:00 pm
Aesthetic Everything will present all of the winners with a Diamond Crystal Award! (~View Disclaimer)
Aesthetic Everything is your #1 Awards Source in the Aesthetic and Beauty Industry and is the only awards to include all contributors within the industry. Aesthetic Everything has the most awards votes received (over 10,000 annually), most awards given (over 400 awards), most awards categories (35 categories), most visible awards on social media in the industry, (over 1 million followers and 200,000 subscribers). If there is a category we have missed, please submit it to info@aestheticeverything.com
HOW TO GET VOTES
POST THIS PHOTO BELOW ON SOCIAL MEDIA TO GET YOUR FRIENDS AND FANS TO VOTE FOR YOU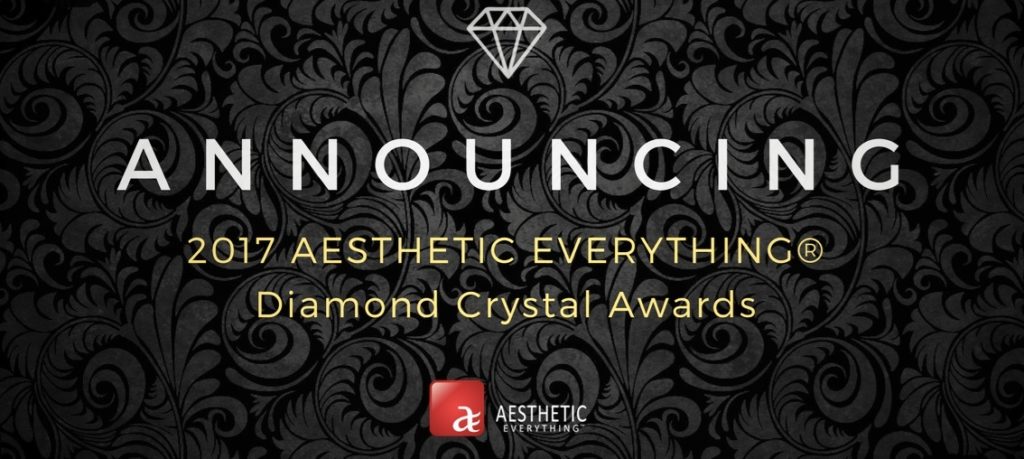 BE SURE TO LET THEM KNOW WHAT CATEGORY
---
SEND A NEWSLETTER TO YOUR PATIENTS ASKING THEM TO VOTE FOR YOU
BE DESCRIPTIVE WITH CATEGORY YOU WANT THEM TO VOTE AND BE SURE TO GIVE THEM THESE INSTRUCTIONS
HOW TO VOTE FOR XYZ COMPANY FOR TOP DOCTOR 2017
CLICK HERE
NAME OF NOMINEE: ENTER MY NAME XYZ COMPANY
I AM VOTING THIS NOMINEE FOR: ENTER TOP DOCTOR WEST
VOTER: ENTER YOUR NAME, ONE VOTE PER PERSON
THE REST IS OPTIONAL BUT YOU CAN SAY WHY YOU VOTED FOR US AND SEND A BEFORE AND AFTER PHOTO AS EVIDENCE OF YOUR AMAZING RESULTS.
---
VIEW PHOTOS OF LAST YEARS WINNERS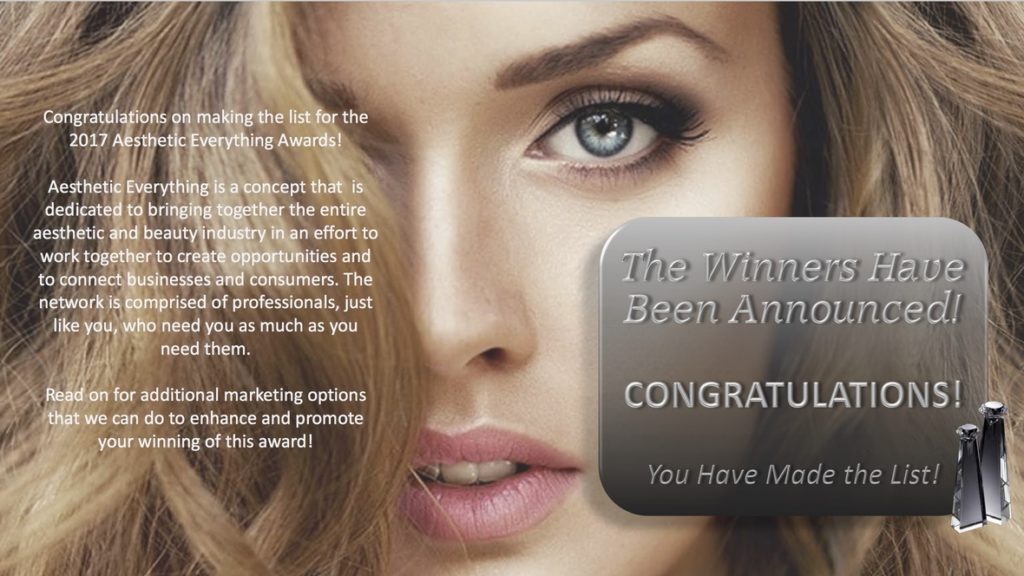 THE DIAMOND CRYSTAL AWARD GUIDELINES ARE AS FOLLOWS:
THE VOTING PROCESS FOR 2017 AESTHETIC EVERYTHING CRYSTAL DIAMOND AWARDS
The Diamond Crystal Awards Voting Process Begins promptly at 12:01 am PST on August 1st, 2017. All entries for the Aesthetic Everything Diamond Crystal Awards 2017 must be submitted through the website. Entries are counted as an official "vote." All entry forms must be completed in their entirety. It's important to note that the more information you provide and the more evidence that you submit, the stronger your submission will be. This information will be used to choose the lists of finalists and by the judges when voting on a winner. You may enter in as many categories as you wish. You can only enter each category once per nominee. Multiple entry forms for the same clinic, company, individual, treatment or product by the same person will be disregarded. All entries must be completed and submitted by September 1st at 11:59pm PST.
The list of finalists for the Aesthetic Everything Diamond Crystal Awards will be announced on September 18th, 2017 at 12pm PST.
If you have any questions or issues please email our support team at vanessa@aestheticeverything.com.
---
HOW THE ENTRIES ARE JUDGED:
After the closing date on September 1st, 2017 at 11:59 pm, the internal team will consider all the entries to select a list of finalists in each category, which will be published on the Aesthetic Everything website on September 18th, 2017 at 12pm PST. Anyone will be able to nominate a company, clinic, individual, treatment, or product in each of the following categories:
DIAMOND CRYSTAL AWARDS CATEGORIES:
Top Aesthetic Doctors
Top Plastic Surgeons West Coast
Top Plastic Surgeons East Coast
Top Plastic Surgeons Middle America
Top Facial Plastic Surgeons West Coast
Top Facial Plastic Surgeons East Coast
Top Facial Plastic Surgeons Middle America
Top Breast Surgeons
Top Hair Restoration Surgeons
Top Vaginal Surgeons
Top Body Sculpting Doctors
Top Dermatologists West Coast
Top Dermatologists East Coast
Top Dermatologists Middle America
Top Presidents
Top Executives
Top Nurses
Top Aestheticians
Top Aesthetic Companies
Top Aesthetic Service Companies
Top Cosmetic Centers
Top Skin Care Centers
Top Shaping Companies
Top Medical Spas
Top Medical Skin Care Lines
Top Spa Skin Care Lines
Top Aesthetic Laser Companies
Top Aesthetic RF & Skin Care Companies
Top Aesthetic Office Staff
Top Societies & Conferences
Top Aesthetic Publications
Top Aesthetic YouTube Videos
Top Charitable Efforts in Aesthetics
The winners within each category will be selected by votes and by the industry judging team.
GET READY TO VOTE ON AUGUST 1st at 12:01am PST
---
SUBMIT YOUR NOMINATIONS
SUBMIT NOMINATIONS FOR EACH CATEGORY HERE
VOTE FROM AUGUST 1st UNTIL SEPTEMBER 1st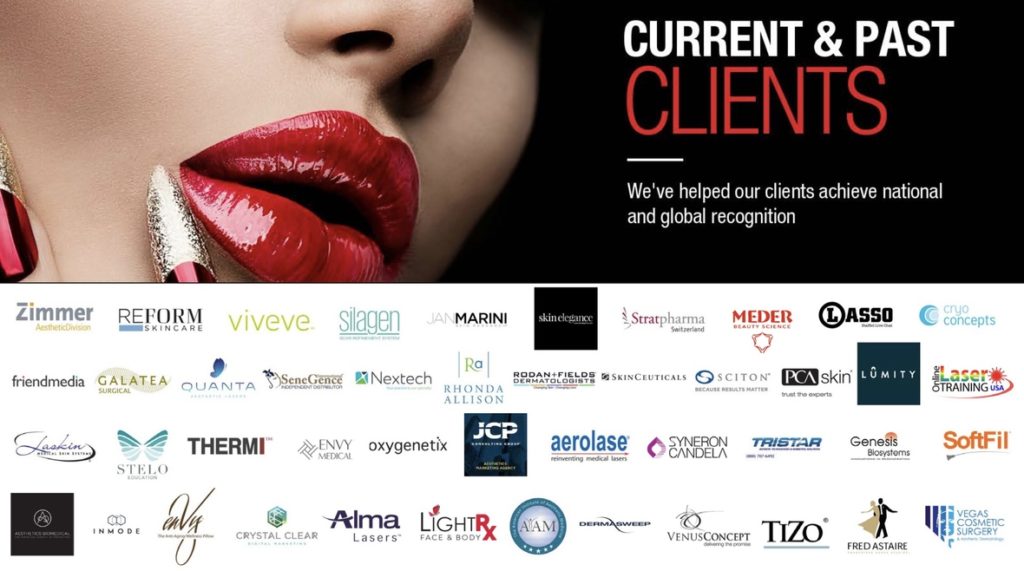 THANK YOU FOR VOTING!
STAY TUNED! WINNERS ANNOUNCED SEPTEMBER 18th, 2017!
DISCLAIMER: NO PURCHASE NECESSARY: All Awards are given fairly based on incoming votes and aesthetic industry judging by top aesthetic industry peers. There is no purchase required to receive an award. The awards campaign is 100% funded by Aesthetic Everything with no sponsorships or buy-in allowed by any company or physician. All Winners can choose to purchase at their own free will and at cost, the Aesthetic Everything Diamond Crystal Award Statue for ($150~cost) or the Aesthetic Everything Diamond Crystal Award Custom Badge for ($100~cost). The Crystals and Badges can be displayed at businesses, trade shows, homes and offices to feature the winning of these awards. There is no purchase necessary to vote, win or to be involved in the awards process. Once winners are selected, they may select to order an SEO winners video package at their own free will to promote the award. The video packages will be placed on youtube for winners at cost. View the packages below which will be available September 18th, 2017.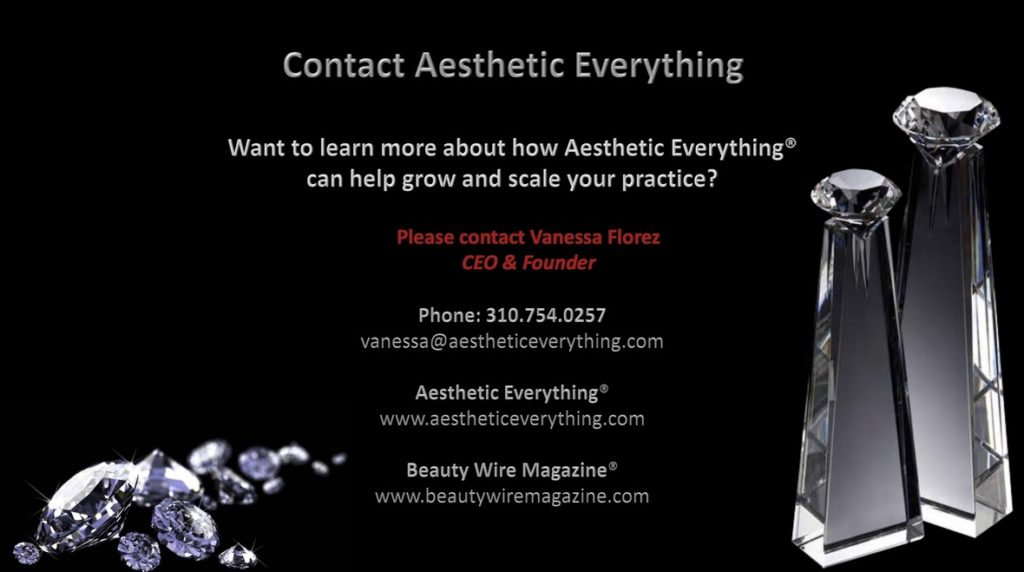 ---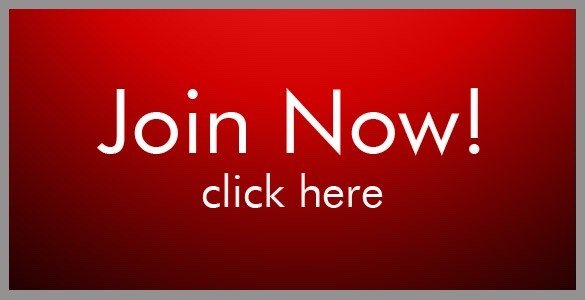 You can be a Featured Doctor or Featured Company with Aesthetic Everything. Inquire by e-mailing vanessa@aestheticeverything.com.
This message brought to you by Beauty Wire Magazine, the e-magazine by Aesthetic Everything. If you would like your news or press release shared with the aesthetic industry, please submit your article HERE. If you would like to join our network of over 50,000 aesthetic professionals and over 1 million followers, please click HERE.