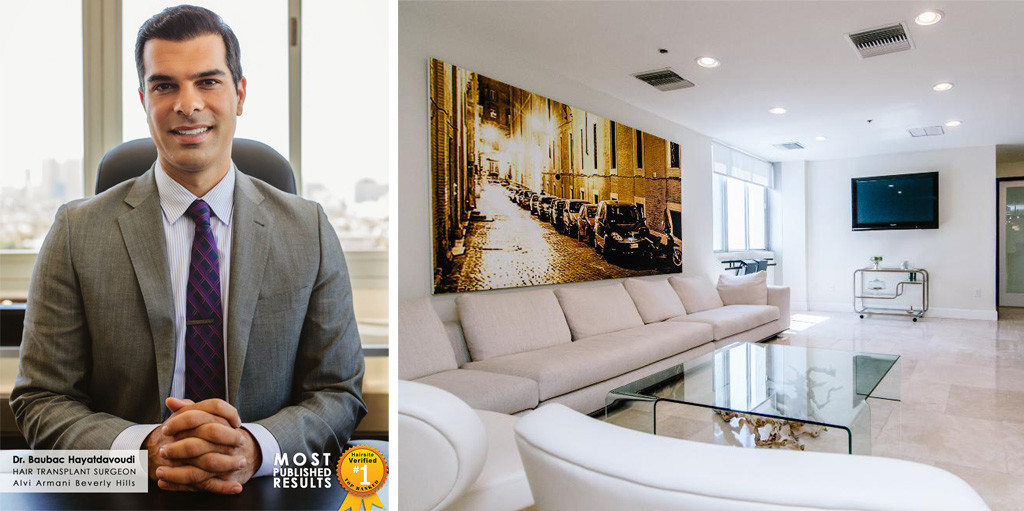 Beverly Hills is the go-to location for plastic surgery and dermatologists, and now Beverly Hills has the best-of-the-best in hair restoration as well. Dr. Baubac Hayatdavoudi of AlviArmani in Beverly Hills recently was named the #1 Hair Restoration surgeon in America, according to Aesthetic Everything's Top 10 list in its annual national survey.
Dr. Baubac Hayatdavoudi is one of the most esteemed hair restoration surgeons in the country and is the Lead Surgeon, President and Medical Director of AlviArmani, Beverly Hills. Since 1999, AlviArmani has been providing world-class hair restoration and transplantation surgery to patients from all around the world. He is best known in the hair restoration industry for his artistic design and natural looking hairlines with unrivaled density and thickness.
AlviArmani's FUE (Follicular Unit Hair) hair transplant is a simple, outpatient procedure that has eliminated the customary linear incisions and stitching of the out-dated FUSS procedure. This minimally invasive process has significantly reduced the pain and healing time involved, and patients are able to return to their daily routine much faster than the traditional strip surgery.
AlviArmani's unique approach to hair transplants focuses on Vitruvian Design, natural hairlines, maximum density and strategic placement and temple angle closure. Take a look at their before and after gallery for hair restoration here. For more information on density, please watch the video in this article.
Everyone's face differs, no two hairlines are equal. At AlviArmani, the procedure includes not just designing a new hairline, but actually restructuring the hairline around someone's entire facial area according to individual characteristics. Patient's age and ethnic background also decide hairline placement on the scalp. AlviArmani's cutting-edge hair transplant procedures involve replicating the natural density of the scalp. Hair transplants performed at lower densities appear spotty or see through fostering unhappy patients seeking further work. AlviArmani also duplicates natural temple angle regions restoring youthful authentic appearances using artistic methods displaying natural looking temple angles.
The Aesthetic Everything also named the AlviArmani Clinic to its Top 10 Cosmetic Centers in America list ranking AlviArmani at #6. The Aesthetic Everything honor is just the latest in a long list of awards that Dr. Baubac Hayadtavoudi and the AlviArmani clinic have achieved. Earlier this year, AlviArmani won the 2015 Consumer Choice award recognizing the clinic as the top-ranked organization in the Hair Restoration Industry, and AlviArmani was awarded the #1 hair transplant clinic in the U.S. by Hairsite in 2014.
Here is the full list of Aesthetic Everything's Top 10 Hair Restoration Surgeons in America for 2015 so you can check out the other 9 doctors.
AlviArmani is located at 8500 Wilshire Blvd., Suite 1010, Beverly Hills, CA 90211. If you are experiencing a receding hair line and are interested in services from this top doctor, you can get a free NO OBLIGATION consultation by visiting the AlviArmani website or call the clinic at 844-833-4340.
dd
Read the Original Article
dd
You can be a Featured Doctor or Featured Company with Aesthetic Everything. Inquire by e-mailing vanessa@aestheticeverything.com.
This message brought to you by Beauty Wire, the new magazine from Aesthetic Everything, and Aesthetic Agency. If you would like your news shared with the aesthetic industry, please request a quote from Vanessa.