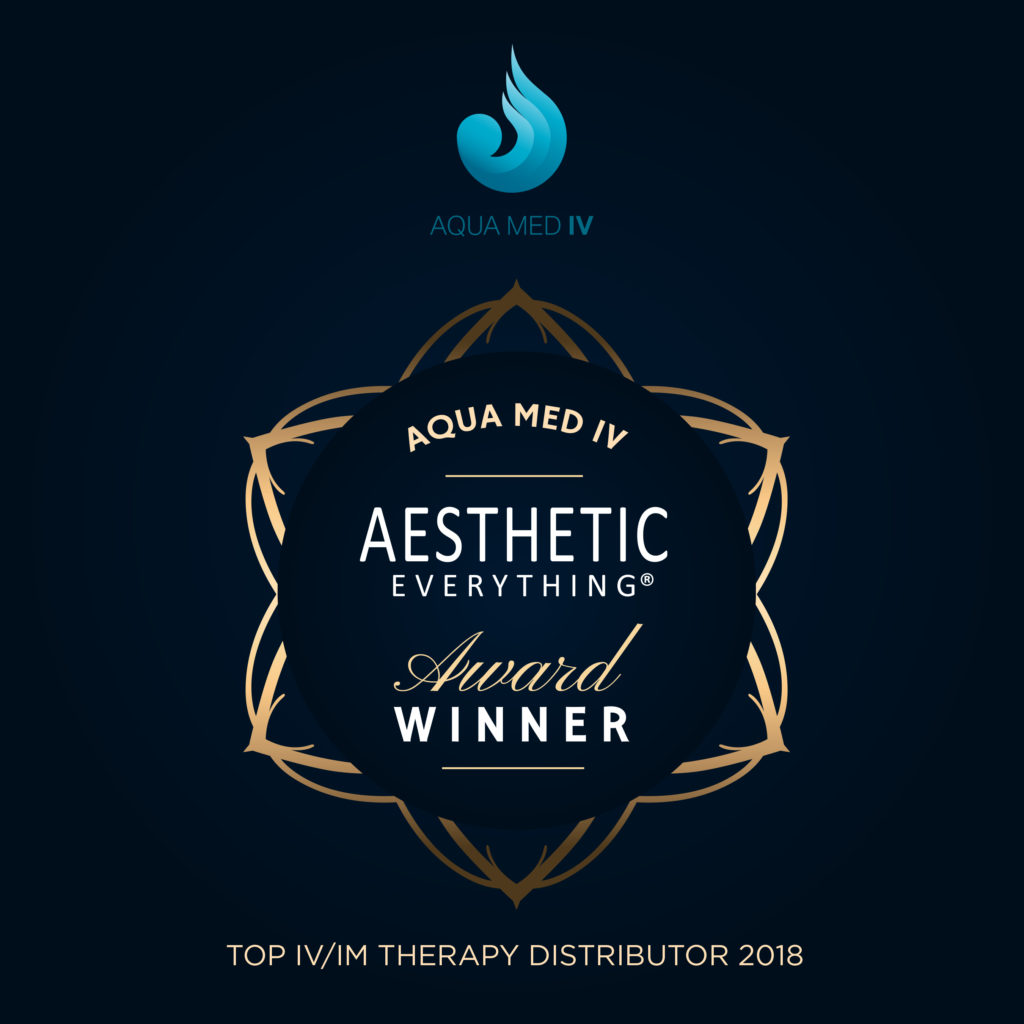 Aqua Med IV Receives Top IV And IM Distributor Award In The Prestigious 2018 Aesthetic Everything® Awards
READ CISION RELEASE FOR TIMES SQUARE
---
CHARLOTTE, N.C., Oct. 30, 2018 /PRNewswire-iReach/ — This year's Aesthetic Everything® Aesthetic and Cosmetic Medicine Awards tapped winners from over 30,000 votes cast. Voting was held online between September 1st and October 1st, 2018. All votes were counted to obtain the list of winners. The Award winners for excellence in the field of Aesthetics span the categories of Companies, Products, CEOs, Presidents, Executives, Doctors, Med Spas, Aestheticians, Nurses, Staff, Services, Training, Publications, Meetings, Charity, Videos and more.
"We and the whole team at Aqua Med IV are truly honored to receive this award for Top IV and IM Distributor in the prestigious 2018 Aesthetic Everything® Awards." Bill Kortesis, MD, FACS – Managing Partner HKB Cosmetic Surgery and Co-Founder Aqua Med IV & Gaurav Bharti, MD, FACS – Managing Partner HKB Cosmetic Surgery
"We are honored to be recognized with such a special award for a therapy that is helping so many people maximize their lives with health, recovery, & wellness. Our company is passionate about sharing how IV/IM therapy can help optimize daily living through anti-aging, immunity, and wellness therapies to enhance the life in a person's years and the years in a person's life." Justin Karas, CEO Aqua Med IV
ABOUT AQUA MED IV:
Aqua Med is a lifestyle company focused on providing turnkey wellness solutions to established aesthetic practices. Their current offering provides targeted IV and IM formulations that are easily incorporated into existing aesthetic offerings. Flagship centers using their products have stacked targeted treatments with other procedures with immense success and enhanced revenue streams. Aqua Med aims to ensure that practices not only have state of the art formulations, but also effective implementation, on going training and continued utilization to ensure financial success for each practice. All while providing a marketing opportunity to a lucrative demographic for your practice. This is a seamless way to integrate wellness into current practices as a low cost option that creates high revenues with high profit margins, all while creating a happier and better patient experience.
VIEW FEATURED MEMBER PROFILE: https://aestheticeverything.com/listing/aqua-med-iv/
About Aesthetic Everything®:
With almost 10 years in business, Aesthetic Everything® is the largest network of aesthetic and beauty professionals in the world. This is the seventh year that Aesthetic Everything® has presented hundreds of awards to deserving and hard-working professionals and companies within the aesthetic industry. The company's success is rooted in their over 200,000 aesthetic industry subscribers and over one million engaged social media connections.
Aesthetic Everything® has been featured in numerous publications including ABC, NBC, FOX, CBS, WSJ, Entertainment Tonight, Good Morning America, Radar Online, Haute Living, Life and Style, E! Online, Reality Tea, OK! Magazine, US Weekly, AOL, Naluda Magazine, Inform New York, Getty Images, Yahoo, Scottsdale Health, Modern Luxury Magazine, Pop Sugar and has also been mentioned in millions of websites and publications worldwide.
LEARN MORE ABOUT AESTHETIC EVERYTHING
---
Media Contact:
Kelly Grasty
VP of Operations
Aqua Med IV
P.O. Box 12395
Charlotte, NC 28220
(M) 704-277-5777
Media Contact: Vanessa Julia, Aesthetic Everything, 310-754-0257, vflorez@icloud.com
SOURCE Aesthetic Everything
---
VIEW CISION RELEASE FOR ALL WINNERS
VIEW BEAUTY WIRE MAGAZINE FULL LIST OF WINNERS
GET YOUR CUSTOM AWARD WINNER NEWSLETTER, PROFILE, ARTICLE, PRESS RELEASE , CRYSTAL, CHAMPAGNE OR BADGE