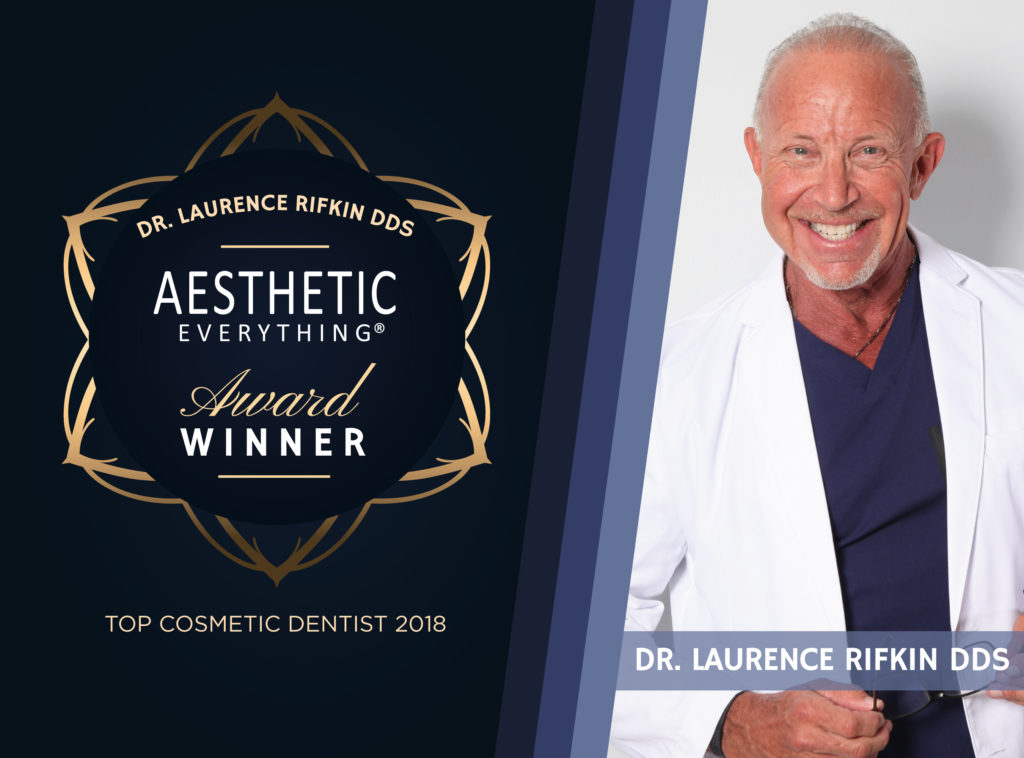 Dr. Laurence Rifkin Awarded "Top Cosmetic Dentist" in 2018 Aesthetic Everything® Awards
Laurence Rifkin, DDS was all smiles when notified that he had been honored with the top votes for "Top Cosmetic Dentist" in the 2018 Aesthetic Everything® Awards.
READ CISION RELEASE FOR TIMES SQUARE
---
BEVERLY HILLS, Calif., Oct. 8, 2018 /PRNewswire-iReach/ — Laurence Rifkin, DDS was all smiles when notified that he had been honored with the top votes for "Top Cosmetic Dentist" in the 2018 Aesthetic Everything® Awards.
This year's Aesthetic Everything® Aesthetic and Cosmetic Medicine Awards tapped winners from over 30,000 votes cast. Voting was held online between September 1st and October 1st, 2018. All votes were counted to obtain the list of winners. The Award winners for excellence in the field of Aesthetics span the categories of Companies, CEOs, Presidents, Executives, Doctors, Med Spas, Aestheticians, Nurses, Staff, Services, Training, Publications, Meetings, Charity, Videos and more.
"I am very honored and excited to accept the "Top Cosmetic Dentist" 2018 Aesthetic Everything® Award from my colleagues and peers. Being recognized by other professionals is one of the best rewards of my career," said Dr. Rifkin.
About Laurence Rifkin, DDS:
Dr. Laurence Rifkin is a Cosmetic Dentist with a passion for art, technology and science. He graduated with his dental degree from USC School of Dentistry in 1976. He practices in Beverly Hills, California, with a heavy emphasis on Dento-Facial Aesthetics and Comprehensive Periodontal-Implant Rehabilitation. For decades, he has applied dento-facial aesthetics as both a dentist and a professional sculptor. He prides himself on merging both artistic inspiration and scientific discipline to create long-lasting, beautiful smiles that look completely natural and not "over done." Committed to precision, he uses the Dental Operating Microscope, the latest in microscopic surgical technologies. This state-of-the art device is uncommon, used only among the most advanced dental practices. Dr. Rifkin also formulated "The Rifkin Method," a system of aesthetic predictability and a series of steps that delivers unparalleled results.
Rifkin Beverly Hills offers spacious treatment rooms with the latest digital and microscope-guided technology. The practice also provides concierge services for patients visiting from abroad. The Private VIP Suite 1200 is available for celebrities and non-celebrities to enjoy the utmost in comfort and discretion in their dental care.
An international lecturer, Dr. Rifkin has spoken at dental and cosmetic surgery academies on various topics such as: Team Approach to Comprehensive Facial Beauty, Natural Beauty for Teeth and Implants, Microscopic Dentistry, and Complete Mouth Rehabilitation. He has published numerous papers in Facial Aesthetics, Cosmetic Dentistry and Restorative and Implant Supported Dentistry.
Dr. Rifkin has served as a faculty member of both USC and UCLA's schools of Dentistry. In 2017, he was elected President of the Academy of Microscope Enhanced Dentistry, where he helped to further the goals of technology and microscope precision dentistry and to expand the organization internationally. He is also a member of the American and European Academies of Esthetic Dentistry. He one of the few dental members of the American Academy of Cosmetic Surgery.
Because he's widely known for his dental artistry, Dr. Rifkin was invited to consult on major Hollywood projects. In the cult dark comedy film, "The Hangover", Dr. Rifkin provided dental special effects for actor Ed Helms. He also worked his magic dentistry effects for Laurence Fishburne's Nelson Mandela TV series called "Madiba".
Having shared his expertise on radio, internet series, podcasts, local and national television, Dr. Rifkin is recognizable from shows such as "The Doctors", Dr. Drew's "Lifechangers", and "Extra". He was also the official team dentist for the LA Lakers.
Dr. Rifkin subscribes to the philosophy of "paying it forward" and is a dedicated philanthropist. He is a volunteer physician for charities such as Rebuilding Americas Warriors, benefitting returning injured veterans, Face Forward for victims of domestic violence and the Mia St. John Foundation for children and young adults suffering from mental illnesses and disadvantaged circumstances.
To learn more about the Cosmetic Dentistry of Dr. Laurence Rifkin, please visit his website at www.drlaurencerifkin.com.
VIEW FEATURED MEMBER PROFILE: https://aestheticeverything.com/listing/dr-laurence-rifkin-dds/
About Aesthetic Everything®:
With almost 10 years in business, Aesthetic Everything® is the largest network of aesthetic and beauty professionals in the world. This is the seventh year that Aesthetic Everything® has presented hundreds of awards to deserving and hard-working professionals and companies within the aesthetic industry. The company's success is rooted in their over 200,000 aesthetic industry subscribers and over one million engaged social media connections.
Aesthetic Everything® has been featured in numerous publications including ABC, NBC, FOX, CBS, WSJ, Entertainment Tonight, Good Morning America, Radar Online, Haute Living, Life and Style, E! Online, Reality Tea, OK! Magazine, US Weekly, AOL, Naluda Magazine, Inform New York, Getty Images, Yahoo, Scottsdale Health, Modern Luxury Magazine, Pop Sugar and has also been mentioned in millions of websites and publications worldwide.
LEARN MORE ABOUT AESTHETIC EVERYTHING
---
Media Contact: Meagan Cayasso, Laurence Rifkin, DDS, 310-273-0200, meagan@drlaurencerifkin.com
SOURCE Laurence Rifkin, DDS
---
Kind regards,
Aesthetic Everything Team