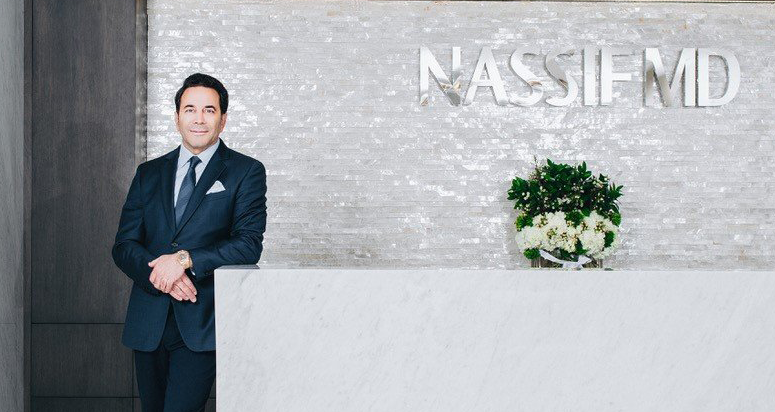 ABOUT
Dr. Nassif is a recognized revision rhinoplasty specialist, helping patients who have had nose surgery once, twice or even five times in the past achieve the cosmetic results they desire with improved function of the nose. Most recently, his work as a revision rhinoplasty surgeon has been featured on Botched!, which follows world-renowned surgeons Dr. Nassif and Dr. Terry Dubrow as they fix the results of some of the most difficult-to-repair, poorly done nose surgeries.
Dr. Nassif prides himself on providing patients with the most natural looking rhinoplasty surgical results possible. Combining his skills as both an artist and a surgeon, Dr. Nassif shapes noses so that they will appear fully natural, with balance and harmony. His experience as an ethnic rhinoplasty specialist also allows him to create natural-looking noses for people of all races. The results of his work are invariably aesthetically pleasing and completely functional.
A LEADER IN THE FIELD OF PLASTIC SURGERY
Dr. Paul Nassif is affiliated with top medical schools and hospitals in California, including Los Angeles County, University of Southern California Medical Center and Cedars Sinai Medical Center. He has authored several peer-reviewed articles on cosmetic surgery and been called upon to lecture on the latest surgical techniques.
He has also been featured in the media on several occasions to promote greater understanding of cosmetic surgery. His work, including his revision rhinoplasty procedures and his "Anti-Gravity Facelift" have been featured on Entertainment Tonight, Good Morning America, People Magazine, USA Today, The Los Angeles Times, the Associated Press, and the Wall Street Journal.
Dr. Nassif may also be recognized for his role on E! Entertainment's Dr. 90210 and E!'s Botched.
Dr. Nassif remains dedicated to helping others in need of reconstructive and plastic surgery through his charitable work. He participates in Face to Face, an organization that offers plastic surgery to victims of domestic violence, along with the Race to Erase MS, the Lymphoma Research Foundation of America, Portraits of Hope, Coach for Ks and the Arthritis Foundation.
---
Products
Nassif MD Dermaceuticals
---
MEMBERSHIPS AND ASSOCIATIONS
American Medical Association Fellow
American Academy of Otolaryngology – Head and Neck Surgery
California Society of Facial Plastic Surgery
Fellow American Academy of Facial Plastic and Reconstructive Surgery – Los Angeles Society of Otolaryngologists
American College of Surgeons
Alpha Omega Alpha National Honor Society
Salerni Collegium
USC School of Medicine
---
 Photo Gallery
Aesthetic Everything Beauty Expo 2018 Hosted by Gretchen Rossi, is excited to announce our Featured Speakers for The Aesthetic Everything Beauty Expo August 9-12th, 2018 at The Phoenician Resort, Scottsdale Arizona!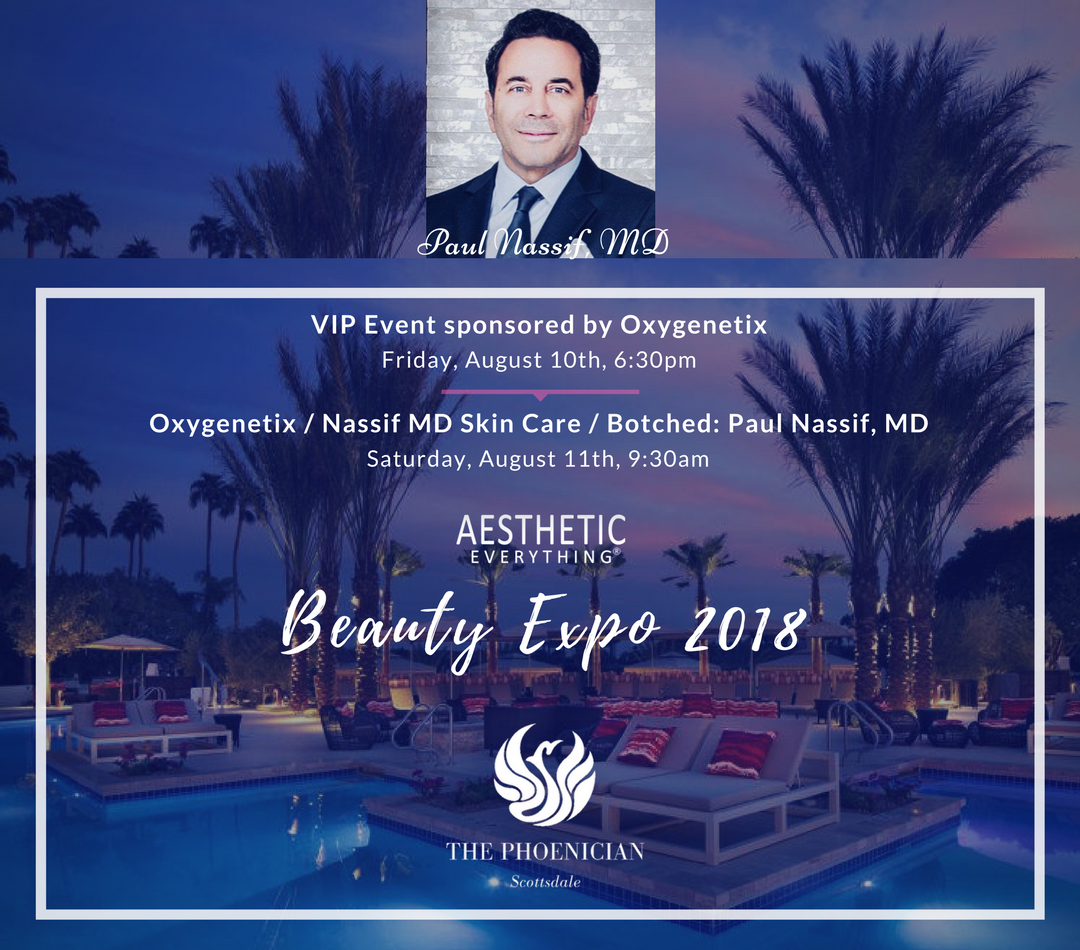 FRIDAY AUGUST 10TH, 6:30PM HOSTING VIP EVENT & SPEAKING ON SATURDAY AUGUST 11TH, 9:30AM
---
CONTACT DR. PAUL S. NASSIF
Phone: (310) 275-2467
Facebook
Twitter
Google+
Instagram
LinkedIn
---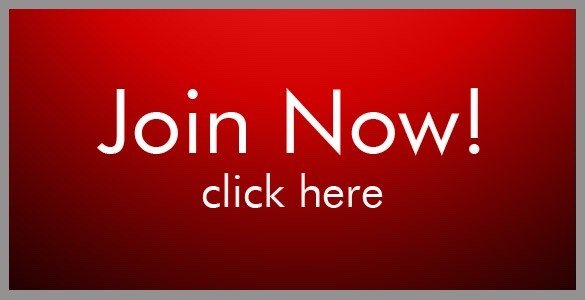 You can be a Featured Doctor or Featured Company with Aesthetic Everything. Inquire by e-mailing vanessa@aestheticeverything.com.
This message brought to you by Beauty Wire Magazine, the e-magazine by Aesthetic Everything. If you would like your news or press release shared with the aesthetic industry, please submit your article HERE. If you would like to join our network of over 50,000 aesthetic professionals and over 1 million followers, please click HERE.