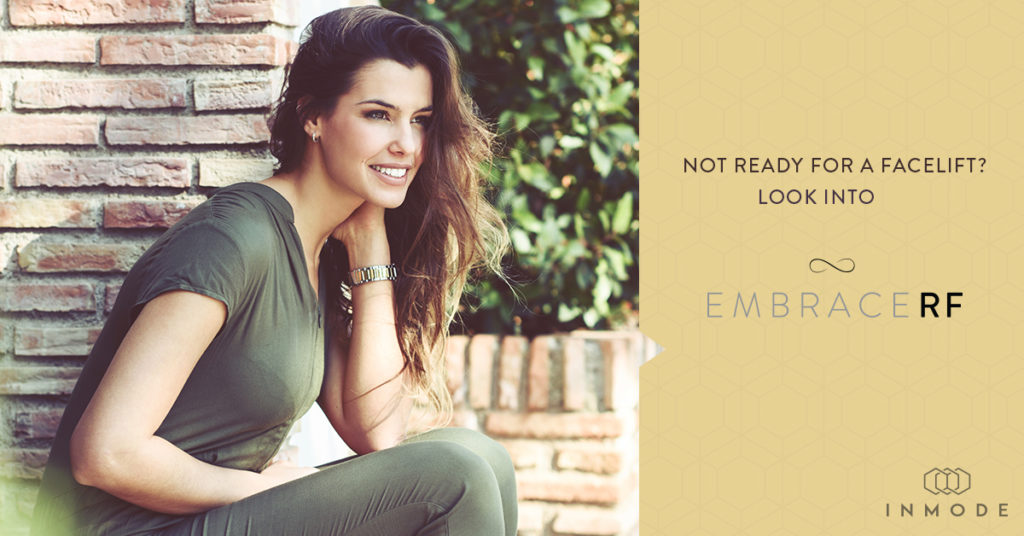 Quote from Shakil Lakhani, President of InMode:
InMode has become the most innovative medical device company in the minimally-invasive aesthetic medicine category. The addition of EmbraceRF, Morpheus8 and the Subdermal Adipose Remodeling category further strengthens InMode's position as being a leader in next generation devices. InMode is committed to providing unique technology in areas where there are limited solutions.
About InMode:
EmbraceRF is the newest innovation in the new subdermal adipose remodeling device (SARD) category. EmbraceRF is manufactured by InMode, for more information contact www.inmodemd.com
An interview with Spero J. V. Theodorou, MD on the newly launched EmbraceRF, by Vanessa Julia, CEO, Aesthetic Everything
VJ: InMode has launched a new procedure, EmbraceRF, can you tell me about it and what is the core differentiator?
ST: EmbraceRF in its pure form defines a whole new category of facial rejuvenation: Subdermal Adipose Remodeling and the associate devices as Subdermal Adipose Remodeling Devices (SARD)
VJ: InMode has a large range of treatment options in the last few years, how does this fit in with the other procedures you currently have?
ST: EmbraceRF addresses the lower third of the face, specifically the neck and jowls. FaceTite is the primary technology behind the EmbraceRF procedure. Up to now, the use of heat energy in this region is defined as RFAL (Radio Frequency Assisted Lipolysis), and if there is a neck that has a fair amount of adipose tissue we employ RFAL, the technology by InMode.
However, in the case of a face and neck where we need to preserve the fat, for the appearance of a youthful contour, we use heat to remodel and mold the fat in addition to the skin tightening for optimal results. This category of subdermal adipose molding is what EmbraceRF is known for at its core. Unlike other treatments out there, physicians are able to strategically determine how much fat is removed, left behind or molded. This procedure allows for accurate sculpting of the face and body, with a similar concept to a clay model, where what you leave is just as important than what you remove or mold.
So, in stark contrast with the majority of current modalities that cause Uncontrolled Fat Dissolution (UFD), where the amount of fat that is melted, frozen or dissolved is not controlled or accurately predicted, this new InMode technology-category allows for unprecedented accuracy. In addition to the added skin envelope tightening that SARD devices provide, it finally allows for physicians to regain control of the medium that they are currently working in to produce aesthetically pleasing and natural results, without the fear of contouring deformities and loose skin.
EmbraceRF can be combined (depending on the quality of the skin) with Morpheus8 externally which is the latest recently FDA approved device for subdermal adipose remodeling. Its depth of 4 mm and additional 1 mm heat signature allows us to now also cause adipose (fat) tissue remodeling. Depending on how deep the dermis is in different parts of the face we can now preserve fat and tighten skin or remold the fat into the contours that are needed to redefine the jaw line and lower face. What is even better is that this is all performed with local anesthesia in the office in approximately 45 minutes, with about a 48 hour downtime. The results are visible immediately and only improve with time over a period of 6 weeks to 6 months.
VJ: Who is an ideal patient for treatment?
ST: EmbraceRF combines two unique technologies into a one-time procedure that has long lasting surgical results. Ideal candidates are:
Treatment Gap Patients: Those not severe enough for a facelift, and not enough elasticity of the skin for liposuction. InMode is the first to truly define this category and publish it in the latest edition of the peer reviewed ASJ clinical journal found on www.inmodemd.com.
Sideline Patients: All potential patients that are candidates for facelift's, but have not had surgery due to concerns about scarring and general anesthesia. 
Facelift Maintenance Patients: Patients who have had a previous facelift, but have had early recurrence of jowling and neck laxity, and are too early to repeat another facelift. This is another large category that there is currently no solution for.
VJ: Is there anything else important about this treatment that all physicians should know?
ST: The EmbraceRF procedure fits in nicely with InMode's DNA as the leader in the Minimal Invasive Category of cosmetic medicine. In other words, treatments that are surgical, with long lasting results with minimal downtime done in the office under local anesthesia. 
As patients are starting to see more and more the limitations of non-invasive devices; allowing physicians to be able to provide to their patients a long lasting result with a one time procedure in an office setting, under local anesthesia is not only the new mantra (refer to the article "The Return of the Downtime"), but also allows an unprecedented affordability to patients that are exhausted with recurrent treatments that have moderate to minimal results.


For More Information, please contact:
Spero J. V. Theodorou, MD
Clinical Assistant Professor of Surgery
Zucker School of Medicine, Hofstra University
128 Central Park South
NY, NY 10019
212-265-2724
www.bodysculpt.com