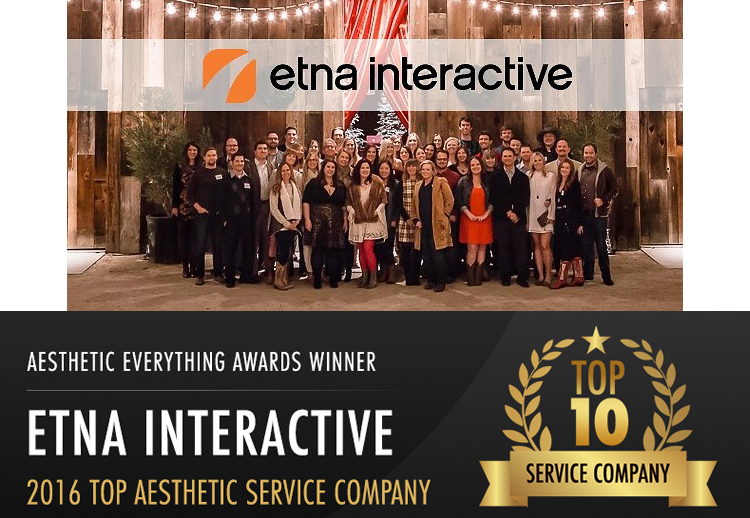 San Luis Obispo, CA (January 10, 2017) – The medical marketers at Etna Interactive (http://www.etnainteractive.com) have earned national recognition for their contributions to the aesthetic industry.
The local company was recently named the #2 Aesthetic Service Company by Aesthetic Everything, a web platform which bills itself as the #1 Aesthetic Promoter to the Aesthetic Industry."
"It's an honor, and I think it's a reflection of the strength of our partnerships," says Ryan Miller, President and Founder of Etna Interactive. "We're not just generating leads for clients. We're forging relationships with these practices, giving them tools to grow – and most importantly, we're empowering them to do more of the work that they love."
2016 marks the fourth iteration of the Aesthetic Everything Top 10 lists. Aesthetic Everything selects top 10 winners in 32 categories in all, including verticals that Etna Interactive serves, such as medical spas, plastic surgery practices, hair restoration centers, and dermatology practices, among others.
"It's no coincidence that you'll find several of our clients honored by the same organization as top surgeons in their fields," Miller says. "Our clients expect the very best work from us because they demand the same level of quality from themselves."
Each year, the organization holds a voting period online and asks its members to participate. Members include doctors, medical professionals, companies in pharmaceuticals and spa/beauty, medical schools and societies, and patients. Etna Interactive ranks alongside FriendMedia, a company dedicated to helping practices change the waiting room experience, and RealPatientRatings®, the world's largest collection of verified plastic surgery, medical, spa, and ophthalmology patient reviews, among others.
"There's a 'people's choice' element to this award, and that's what is most gratifying to us," Miller says. "We have built this agency on the principle of providing uncommonly good service and products. Earning recognition from our clients and peers is a signal that they appreciate our purpose and passion for the work we do."
Aesthetic Everything is a networking tool for the aesthetics industry, and its network extends to "aesthetic professionals, consumers, top beauty editors, bloggers, and key social media influencers." The organizationregularly participates in industry events and also puts out Beauty Wire Magazine®, a publication focused on products and trends in aesthetics.
###
Founded in 2002 and based in San Luis Obispo, California, Etna Interactive (http://www.etnainteractive.com) is a full-service digital marketing agency with a focus on elective healthcare. They offer web design, search engine optimization, PPC & paid search, social media marketing, email marketing, strategic consulting, content strategy, and reputation management services to hundreds of the world's most prominent names in the aesthetic field. These include cosmetic and plastic surgeons, dermatologists, ophthalmologists, medical device manufacturers, dentists, and medical day spas.
Read the full story at http://www.prweb.com/releases/2017/01/prweb13961649.htm.