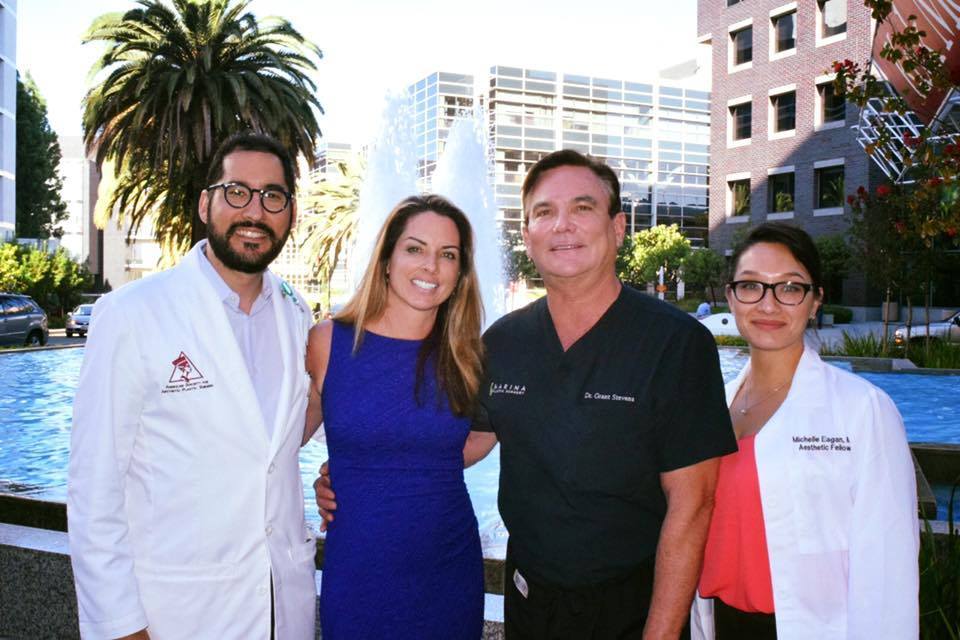 Grant Stevens, M.D., F.A.C.S.
Dr. Stevens, a Los Angeles plastic surgeon, founded The Stevens Institute because he understands the importance of excellent skin care in every person's beauty routine. While cosmetic surgery procedures are often a part of his patients' beauty plan, preventive and restorative skin care also plays a vital role, as more and more people seek non-surgical solutions. By choosing Dr. Stevens, you can benefit from the most modern and advanced skin care treatments, products and services.
Dr. Grant Stevens Selected #1 Aesthetic Doctor by Aesthetic Everything
Marina del Rey, CA – October 29, 2015 — Grant Stevens, M.D., FACS, a board certified plastic surgeon, founder and medical director of Marina Plastic Surgery in Marina del Rey, CA, and an international traveling professor, was voted the #1 Top Aesthetic Doctor 2015 by Aesthetic Everything, the largest network of aesthetic professionals, physicians, beauty and skincare brands in the world. Dr. Stevens and Marina Plastic Surgery also garnered the top spot in categories Plastic Surgeon's West, Cosmetic Centers, Aestheticians and Nurse, and his renowned MediSpa, "The Institute," won honors as did his signature men only spa, "Marina ManLand." Dr. Luis Macias, a board certified plastic surgeon at Marina Plastic Surgery, was named #2 Top Aesthetic Doctor 2015.
Voting took place from August through September 2015. After about 1,500 votes were in, Aesthetic Everything consulted with top doctor websites to identify the highest-rated practitioners in their specialties, all of whom are nominated by their peers. These sites screen medical educations, training, hospital appointments, disciplinary histories and more. Doctors do not and cannot pay to be included.
According to Vanessa Florez, founder of Aesthetic Everything, "We surveyed the top 100 professionals in the aesthetic industry. Once that survey was completed, a final web search was conducted and media was consulted to find out who among these doctors are the most beloved, trusted and go-to physicians."
Dr. Stevens is the Chairman of the USC-Marina Aesthetic Surgery Fellowship and the Director of the USC Division of Aesthetic Surgery. He is a Clinical Professor of Surgery at the USC Keck School of Medicine, Division of Plastic Surgery. He is a board certified Diplomate of the American Board of Plastic Surgery, a Fellow of the American College of Surgeons and the International College of Surgeons. Dr. Stevens is on the Board of Directors of the American Society of Aesthetic Plastic Surgery and the International Society of Aesthetic Plastic Surgery where he serves as one of the International Traveling Professors
For more information, visit www.marinaplasticsurgery.com; like Marina Plastic Surgery on Facebook; sign up for Dr. Stevens' blog www.BeautyByStevens.com and follow on Twitter @DrGrantStevens.
---
Marina Plastic Surgery
Marina Plastic Surgery offers plastic surgery patients in Los Angeles advanced solutions for their surgical and non-surgical cosmetic needs. Dr. Grant Stevens and Dr. Luis H. Macias, the practice's board-certified plastic surgeons, combine personal attention with the latest techniques to achieve beautiful and long-lasting results. California plastic surgery patients from Marina del Rey, Beverly Hills, Santa Monica, Riverside, Long Beach and surrounding areas turn to the friendly staff at Marina Plastic Surgery for the highest quality results.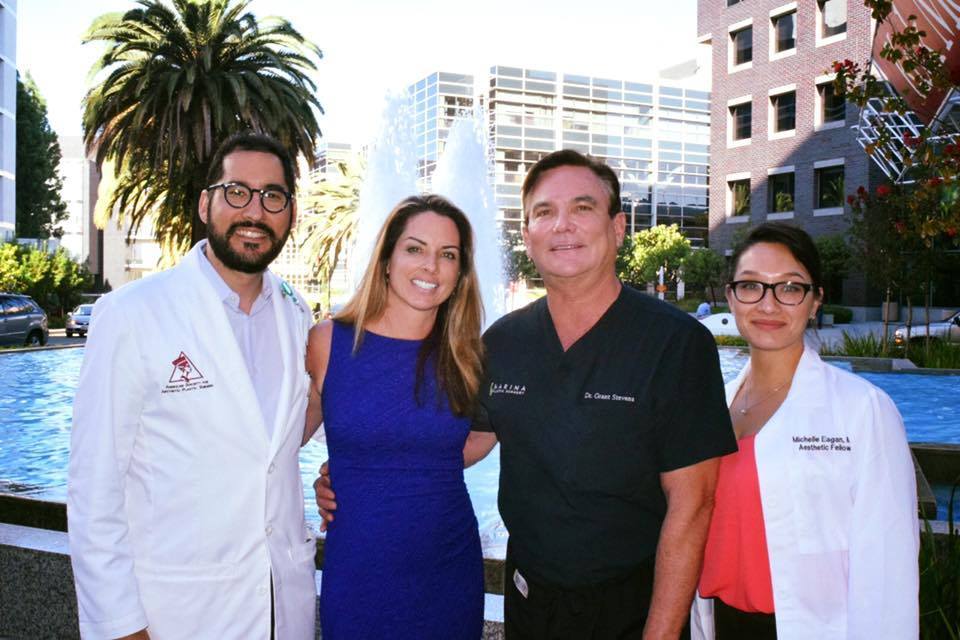 ---
Luis H. Macias, M.D., F.A.C.S.
Dr. Luis H. Macias is a highly-trained plastic surgeon, double Board-Certified by the American Board of Plastic Surgery and the American Board of Surgery serving Beverly Hills and Los Angeles, specializing in aesthetic and complex reconstructive plastic surgery. A University of California, Los Angeles (UCLA) School of Medicine alumnus, Dr. Macias completed a residency in plastic and reconstructive surgery at the May Clinic, followed by a fellowship in microvascular reconstructive surgery at the University of Pennsylvania. Closer to home, Dr. Macias underwent further training in cosmetic surgery in the USC-Martina Plastic Surgery Aesthetic Surgery Fellowship, under the direction of Dr. Grant Stevens.
Using his specialized microsurgical and aesthetic training, Dr. Macias provides Los Angeles plastic surgery patients exceptional technical skill in breast reconstruction following mastectomy and body contouring procedures such as Brazilian butt lifts, Cellulaze to treat cellulite, and Smartlipo. Dr. Macias is highly experienced in breast augmentation using gummy bear breast implants, laser breast surgery, power-assisted tumescent liposuction, and no-drain tummy tucks. He is also trained to perform the breakthrough NeoGraft hair replacement procedure. In addition to seeing patients at Marina Plastic Surgery, Dr. Macias continues to train chief residents in the University of Southern California Plastic Surgery Residency Program as well as cosmetic surgery fellows in the USC-Marina Plastic Surgery Aesthetic Fellowship. As is typical, Dr. Macias went above and beyond and in addition to his extensive formal training, he traveled overseas to train with some of the leading plastic surgery innovators.
---
Additional Staff
Spend some time getting to know your new friends at Marina Plastic Surgery Medical Corporation. Each member of our team has provided a personal photo and brief biography for your consideration. Click here to view.
---
The Institute at Marina Plastic Surgery
Dr. Stevens recognized early in his career that there was a need for proper skin care both before and after surgery. Clinical studies prove that the skin must be in top shape to ensure the best surgical results. With this in mind, The Stevens Institute was born.
About
Years of medical knowledge and firsthand experience with patients informs every recommendation at our medical day spa serving Los Angeles and all of Southern California. Dr. Stevens pioneered the concept of partnering skin care with a cosmetic surgery practice. This partnership bridges the gap between non-invasive skin rejuvenating techniques and surgical procedures.
Our "Results Oriented" medical day spa caters to people who have had surgical procedures and plenty of others who just want to take fantastic care of their skin. Today, The Institute offers a full range of skin care treatments, from facials to laser peels to permanent makeup. Our aesthetic specialists excel in medical esthetic technology and are highly trained professionals. Dr. Stevens oversees the operation of The Institute and is committed to providing you with the most advanced procedures available today that restore youth, while preserving the beauty and functional health of your skin.
Our commitment to your happiness with your appearance extends beyond your first visit. In fact, at The Institute, we pride ourselves on the number of loyal patients who have become Patients for Life™. Using a variety of nonsurgical services – from fillers, to lasers, to nonsurgical body contouring – we offer comprehensive care through the Technology of Beauty™. And when the time is right, our patients can visit Dr. Stevens for their plastic surgery procedure. Throughout every stage of life, we are committed to caring for our patients for the long term.
Our Approach:
Our integrative approach is just one of the reasons our patients are so loyal and why they recommend us to so many of their friends and family members. Below are a few more:
We offer the latest most advanced technology in skin care and anti-aging.
Our practitioners have the highest of educational backgrounds and certifications.
We offer unmatched personal service from the moment you walk in the door.
We are constantly evaluating new skin care services and products for our patients.
We are committed to work with our patients to get the results they desire.
A board-certified plastic surgeon oversees all treatments for added peace of mind.
In partnership with Marina Plastic Surgery, we offer full-service beauty care.
Our practitioners get to know you personally and remember you by name.
We often host fun and educational events exclusively for patients.
---
Marina Manland
Men are not exempt from wanting to put their best face forward, which is why there's an increasing demand for plastic surgery for men in Los Angeles and Beverly Hills. Our surgeons understand that men have unique concerns about altering their appearance. Maintaining masculine features is essential, as is avoiding an overdone or feminized look. Our surgeons are among the most widely acclaimed plastic surgeons in the area. They can help you take control of your appearance in a way that looks natural.
Watch The Marina Manland Video
---
Body by Orange Twist for Aesthetic Beauty Treatments Debuts in Costa Mesa
Body by Orange Twist, a new lifestyle brand, offering FDA approved aesthetic treatments, such as body shaping, skin tightening and wrinkle reduction, launched its first freestanding location at 485 E. 17th Street, Suite 500, Costa Mesa, CA 92627.
"Body by Orange Twist is unlike any other medical office experience," said Clint Carnell, executive chairman. "Our clients are welcomed by a dedicated staff into a serene, private atmosphere with no appointments necessary. Body by Orange Twist offers an unmatched experience that makes both women and men feel welcome, comfortable and confident that they are in the best hands for aesthetic treatments." He added that the experience is more like a high end hair salon than medical office. Clients will be pampered with no waiting and luxury accommodations. "Body by Orange Twist is the Starbucks of beauty treatments," Carnell said.
To assure the highest quality of medical supervision, Body by Orange Twist is under the medical direction of high profile plastic surgeon and international traveling professor Grant Stevens, MD, FACS, medical director of Marina Plastic Surgery. Dr. Stevens is an expert on a variety of extremely popular procedures like CoolSculpting, fillers like Botox and Voluma and other aesthetic treatments offered at Body by Orange Twist.
According to the American Society for Aesthetic Plastic Surgery, non-invasive cosmetic procedures rose in popularity by 520 percent between 1997 and 2013. "Our clients look for natural results with as little surgery and inconvenience as possible. We have seen a huge uptick in non-surgical procedures due to incredible progress companies have made in non-invasive medical technology for looking younger and fresher," said Dr. Stevens. "The procedures we offer at Body by Orange Twist are a great first step towards feeling better about how they look before opting for a major procedure like a face lift."
Rounding out the founding team of experts is Joel Nunneley as chief marketing officer. "Years ago, people were horrified at the thought of outpatient surgery centers, and now they are more common than hospitals," Nunneley said. "We believe that our aesthetic centers are the cutting edge for people who don't want to sit in a boring doctor's office for treatments. Instead, they want to be treated like important clients with busy lives who can drop in for a fat reducing treatment and get fillers at the same time," Nunneley said. "It's perfect for our busy lifestyles and a world that revolves around how good you look on Facebook, Pinterest and Instagram. We're very excited to be at the forefront," he added.
Please visit www.bodybyorangetwist.com. Visit Body by Orange Twist on Facebook and follow @BodyByOT on Twitter.
Marina Plastic Surgery- MENU OF SERVICES…Because Aging Should Be Beautiful
Dr. Grant Stevens & Dr. Luis Macias
PLASTIC SURGEONS
Facial Rejuvenation, Facelifts, Mini Facelifts, Necklifts, Endoscopic Browlifts, Templelifts, Eyelid Surgery, Nasal Surgery (Rhinoplasty), Cheek Implants, Chin Implants, Buccal Fat Pad Removal, Ear Pinning (Otoplasty), Lip Augmentation, Fat Transfer, CO2 Laser Skin Resurfacing, Breast Augmentation, Breast Implant Exchange, Breast Lifts, Breast Reduction, Laser Bra Surgery, Male Breast Reduction (Gynecomastia), Breast Reconstruction Following Mastectomy, Inverted Nipple Repair, Nipple Reduction, Nipple Enlargement, Areolar Reduction, Arm Lifts, Full and Mini Tummy Tucks, Abdominal Wall Repair, Labiaplasty, Buttock Augmentation, Buttocks Lifts, Body Sculpting, Liposuction, Body Lifts, Posterior Lifts, Thigh Lifts, Combined Surgery, Mommy Makeovers, Smart Lipo Multiplex, Cellfina, VECTRA Imaging, NeoGraft Hair Replacement, Skin Removal following Weight Loss, Brazilian Butt Lifts, Kybella
Cory Felber, PA-C , Carla Lovato, PA-C, & Jennifer Tinelli, NP-C
PHYSICIAN EXTENDERS
Mole Evaluation & Removal, Laser Vein Therapy, Sclerotherapy, Obagi Blue Peels, Laser Hair Removal, Laser Therapy for Spider Veins, Lip Augmentation, Treatment of Birth Marks, Warts, Nail Fungus, Latisse, Botox, Dysport, Xeomin, Facial Rejuvenation, Restylane, Restylane Silk, Perlane/Restylane Lyft, Radiesse, Belotero, Laser Genesis, Juvederm UltraPlusXC, Sculptra, Voluma, Pearl, Pearl Fractional, Photofacials, Limelight/XEO, Wrinkle Reduction, Collagen Remodeling, Skin Brightening, Visia Skin Analysis, Complexion Mapping, GentleWaves, Skin Fitness, Excessive Sweating (Hyperhydrosis), Fraxel, Fraxel DUAL, DUSA Acne Therapy, BLU-Light Therapy, EarLobe Repair, Earlobe Rejuvenation, Nasal Sculpting, Stretch Mark Therapy, Treatment of Age Spots & Sun Damage, Skin Cancer, Treatment of Active Acne & Acne Scars, Rashes, Skin, Hair & Nail Disorders, Rosacea, Pregnancy Mask/Melasma, Chemical Peels, Hand Rejuvenation, Laser Scar Treatment, Skin Cancer Detection & Excisions, Excel V, Clear & Brilliant, ThermaFrax, Skin Lifting & Tightening, Thermage CPT, SmoothShapes, Titan, Exilis, Body Contouring, Body by Thermage, Zeltiq, Coolsculpting, Freeze-the-Fat, Cellulite Treatment, MiraDry, TruSculpt, Venus Legacy, Ulthera Non-Surgical Face & Neck Lifting; Halo & Contour Laser Resurfacing, Ultherapy, Kybella, CoolMini
Rachael Martinez, Ann Yacullo, Paulette McNeely
MASTER MEDICAL AESTHETICIANS / PERMANENT MAKEUP ARTISTS
Custom Facials, Custom Peels, HydraFacial, Microdermabrasion, Dermaplaining, Permanent Make-up, Scar Camouflage, Facial Waxing, Fire & Ice, Coolsculpting Body Slimming, Venus Legacy, Micro Pen, Brow & Lash Tints
Peels: SkinCeutical MicroPeel / Illuminize / Melanage / Quelage / Rejuvenize / Vitalize TCA, Modified Jessners
Products: SkinMedica / IS Clinical / Neova / Stevens RX / TIZO / Skinceuticals / ZO Medical / Airelle
4644 Lincoln Blvd, Suite 552 ~ Marina del Rey, CA 90292
310.827.2653 1-800- 7 NEW YOU
---
You can be a Featured Doctor or Featured Company with Aesthetic Everything. Inquire by e-mailing vanessa@aestheticeverything.com.
This message brought to you by Beauty Wire, the new magazine from Aesthetic Everything, and Aesthetic Agency. If you would like your news shared with the aesthetic industry, please request a quote from Vanessa.