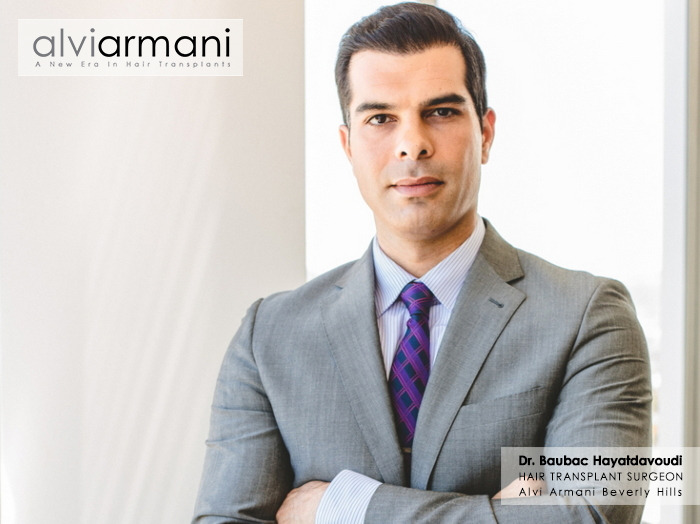 Alvi Armani Hair Restoration and Transplantation Surgery
Hair Transplantation is more art than science. The variety of options to the patients is similar to a variety of tastes in art. In the end it is the patient – or viewer – who decides what is appropriate for them. The function of the hair transplant doctor is to guide the patient, based on experience, to what would be the best suitable application of the procedure in their particular case.
About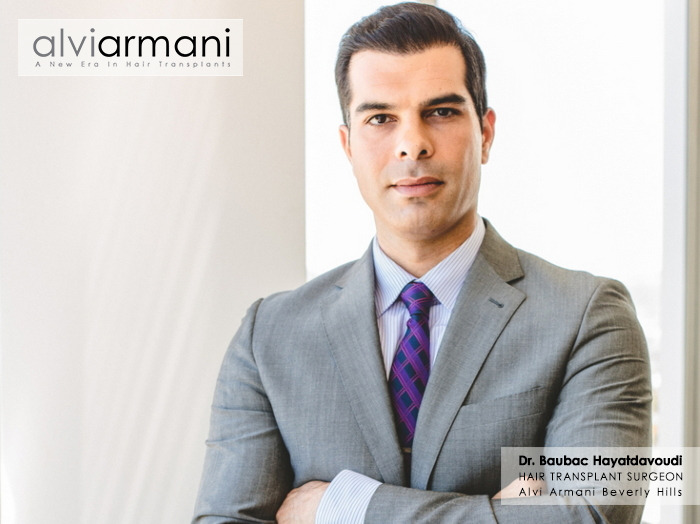 Since 1999, AlviArmani has been providing world-class hair restoration and transplantation surgery to patients from all around the world. At AlviArmani, our FUE hair transplant is a simple, outpatient procedure that has eliminated the customary linear incisions and stitching of the out-dated FUSS procedure. This minimally invasive process has significantly reduced the pain and healing time involved, and patients are able to return to their daily routine much faster than the traditional strip surgery. Dr. Baubac Hayatdavoudi is the President and Medical Director of Alvi Armani, Beverly Hills and is best known in the hair restoration industry for his artistic design and natural looking hairlines with unrivaled density and thickness.
Objective

Design and placement – Alvi Armani hair transplants offer a unique approach to hairline design. Everyone's face differs, no two hairlines are equal. It is not simply designing a new hairline, but actually requires restructuring around someone's entire facial area according to individual characteristics. Patient's age and ethnic background also decide hairline placement on the scalp.
Density – Alvi Armani's cutting-edge hair transplant procedures involve replicating the natural density of the scalp. Hair transplants performed at lower densities appear spotty or see through fostering unhappy patients
Temple angle closure – Alvi Armani duplicates natural temple angle regions restoring youthful authentic appearances using artistic methods displaying natural looking temple angles.
Certificates and Awards: 2015 Consumer Choice Award winner in the category of Hair Restoration
Alvi Armani has been selected as the 2015 Consumer Choice Award winner in the category of Hair Restoration. Through an independent market research survey, the consumers and businesses have selected Alvi Armani as the top-ranked organization in the Hair Restoration Industry. Consumer Choice Award was established in 1987 with the sole purpose of recognizing business excellence for small and medium sized businesses. No other award in North America statistically measures the opinions of consumers and businesses of markets it represents.
Alvi Armani has been awarded Best Hair Restoration Clinic in the U.S.
Alvi Armani has been awarded the #1 hair transplant clinic in the United States by Hairsite according to their patient statistics for the year 2014. In 2014, Alvi Armani published more patient results than any other doctor or clinic in the United States. This is the top award for the absolute best in its class, as verified by the patient statistics collected in Hairsite's open forum, objective and 100% verifiable. This is one of the highest honors for any hair transplant clinic or doctor in the U.S., the No 1 ranking in verified patient results for year 2014.
Watch These Videos to Learn More
Alvi Armani wins 2015 Consumer Choice Award
FUE Hair Transplant Results 
Dr. Baubac Hayatdavoudi of Alvi Armani: Components of Hair Restoration
Hair Transplant – Dr. Baubac Hayatdavoudi of Alvi Armani
Hair Transplant – Dr. Baubac Hayatdavoudi of Alvi Armani discusses density
You can be a Featured Doctor or Featured Company with Aesthetic Everything. Inquire by e-mailing vanessa@aestheticeverything.com.
This message brought to you by Beauty Wire, the new magazine from Aesthetic Everything, and Aesthetic Agency. If you would like your news shared with the aesthetic industry, please request a quote from Vanessa.
[ad_2]
Source by Beauty Wire Editors