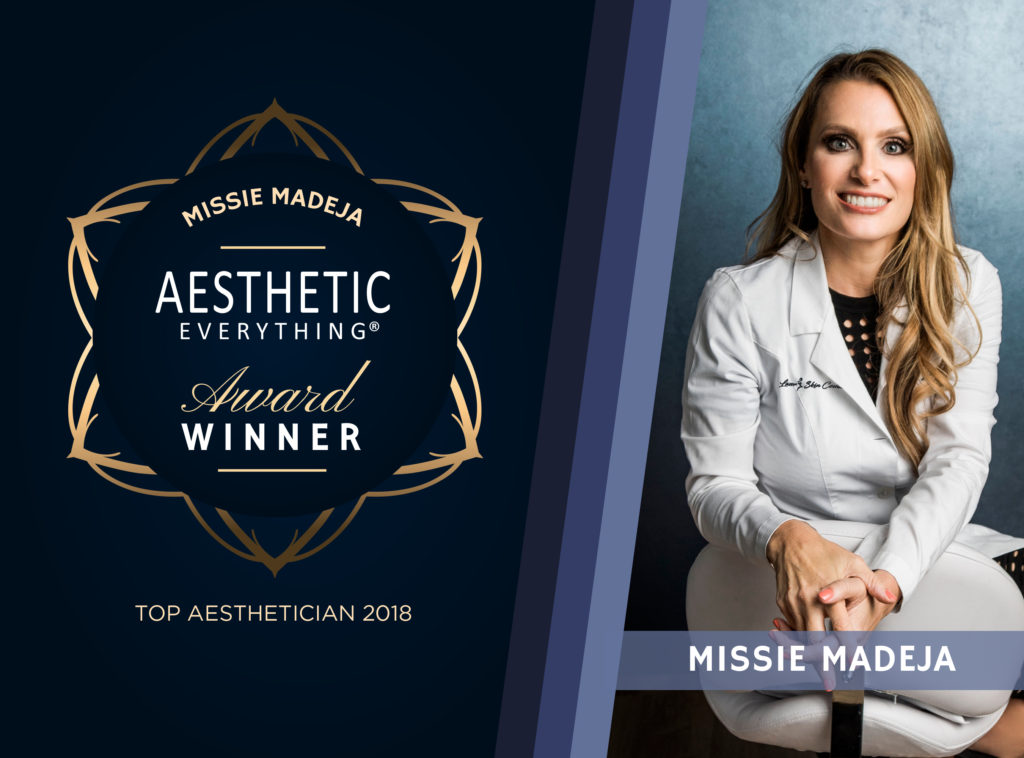 Missie Madeja of Laser Skin Couture Receives Top Aesthetician Award in the 2018 Aesthetic Everything® Awards
Missie Madeja from Laser Skin Couture, the premier aesthetic laser skin center in Chandler, Arizona wins prestigious award
READ CISION RELEASE FOR TIMES SQUARE
---
CHANDLER, Ariz., Oct. 18, 2018 /PRNewswire-iReach/ — Missie Madeja of Laser Skin Couture Receives the Top Aesthetician Award in the 2018 Aesthetic Everything® Awards. Laser Skin Couture is a premier aesthetic laser skincare center in Chandler, Arizona. The business Founder, Missie Madejas' goal is to provide unsurpassed attention to detail and state-of-the-art technology based treatments to clients for their skin care needs. Ms. Madeja continuously strives to provide the finest products and services available for the health and beauty of her clients' skin and body. Laser Skin Couture is at the forefront of innovation and client care, helping to make people feel good about themselves and love the skin they're in.
This year's Aesthetic Everything® Aesthetic and Cosmetic Medicine Awards tapped winners from over 30,000 votes cast. Voting was held online between September 1st and October 1st, 2018. All votes were counted to obtain the list of winners. The Award winners for excellence in the field of Aesthetics span the categories of Companies, Products, CEOs, Presidents, Executives, Doctors, Med Spas, Aestheticians, Nurses, Staff, Services, Training, Publications, Meetings, Charity, Videos and more.
"I am humbled and honored to receive this award as Top Aesthetician for the 2018 Aesthetic Everything® Aesthetic and Cosmetic Medicine Awards. I could not have received this award without all of the votes from my colleagues and the continued support from my clients. This support has allowed me to do what I love to do every day which is share my knowledge, skills and passion". Missie Madeja – Laser Skin Couture
About Missie Madeja and Laser Skin Couture
Ms. Madeja has over 35 years in the Beauty Industry. She enjoys sharing her knowledge, and expertise acquired thru her education and personal experiences while traveling and learning unique and traditional skin care treatments. She continually surpasses the clients expectations by utilizing her attention to detail matched with state of the art technology and products. She has a passion for the Industry and compassion for her clients. Her mission at Laser Skin Couture is for everyone to "Love the Skin You're In".
The services Ms. Madeja provides include:
Laser Hair Removal
Ultherapy FDA approved Non-Invasive Facelift
IPL/ Photofacial
Hydrafacial
Dermaplaning
Chemical Peels
Laser Tattoo Removal
Aesthetic Injectables
PRP Injections and Microneedling
Hair Restoration
Oxygen Ceuticals Facials with Customized Oxygen Treatments
RF Microneedling
LED Light Treatments for Skin, Scalp and Body
PDO Threads
The products Ms. Madeja provides include:
Babor
Casmara
Circadia
Jane Iredale
Neocutis
Oxygen Ceuticals
SkinCeuticals
To Learn more about Ms. Madeja and Laser Skin Couture, please visit: www.laserskincouture.com
VIEW FEATURED MEMBER PROFILE: https://aestheticeverything.com/listing/laser-skin-couture/
About Aesthetic Everything®:
With almost 10 years in business, Aesthetic Everything® is the largest network of aesthetic and beauty professionals in the world. This is the seventh year that Aesthetic Everything® has presented hundreds of awards to deserving and hard-working professionals and companies within the aesthetic industry. The company's success is rooted in their over 200,000 aesthetic industry subscribers and over one million engaged social media connections.
Aesthetic Everything® has been featured in numerous publications including ABC, NBC, FOX, CBS, WSJ, Entertainment Tonight, Good Morning America, Radar Online, Haute Living, Life and Style, E! Online, Reality Tea, OK! Magazine, US Weekly, AOL, Naluda Magazine, Inform New York, Getty Images, Yahoo, Scottsdale Health, Modern Luxury Magazine, Pop Sugar and has also been mentioned in millions of websites and publications worldwide.
LEARN MORE ABOUT AESTHETIC EVERYTHING
---
Media Contact:
Missie Madeja
msmadeja@laserskincouture.com
Laser Skin Couture
602-721-7016
Media Contact: Vanessa Julia, Aesthetic Everything, 310-754-0257, vflorez@icloud.com
SOURCE Aesthetic Everything
---
VIEW CISION RELEASE FOR ALL WINNERS
VIEW BEAUTY WIRE MAGAZINE FULL LIST OF WINNERS
GET YOUR CUSTOM AWARD WINNER NEWSLETTER, PROFILE, ARTICLE, PRESS RELEASE , CRYSTAL, CHAMPAGNE OR BADGE