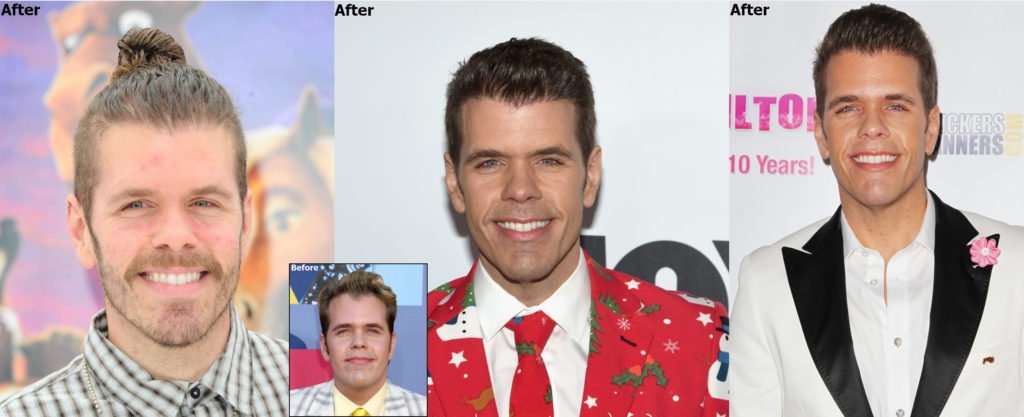 Celebrity Blogger Perez Hilton had a hair transplant with well-known Los Angeles Hair Restoration surgeon Dr. Baubac Hayatdavoudi of the Alvi Armani Beverly Hills Clinic to lower and redesign his hairline, restore the entire frontal region and restore his temple recession.
Perez Hilton is an American blogger, columnist, and television personality. His blog,
PerezHilton.com
, is known for posts covering gossip items about celebrities. He is also known for posting tabloid photographs over which he has added his own captions or "doodles".
Dr. Baubac is best known for his artistic hairline designs, his high density hair restoration results and for attracting celebrities to his clinic to restore their hair for an enhanced look. Dr. Baubac uses the FUE technique which is an advanced method that doesn't leave any visible scarring or signs that the procedure has taken place. Patient's travel worldwide to have their procedure with Dr. Baubac and as you cans ee by Perez's fantastic result you can see why.
"I get a familiarity with the patient's hair that I don't think you can get if you aren't performing the entire procedure yourself." – Dr. Baubac Hayatdavoudi
Alvi Armani hair transplants reach benchmark levels utilizing artistic brilliance, with the Vitruvian designs technically advanced donor hair extraction technique "Maximus – FUE". Large numbers of follicular units (4000+) are delicately removed in a single daily session. Abolishing major surgical instruments shortens healing time and minimizes pain. Dr. Baubac's proprietary scientific technology reinvents follicular unit extraction (FUE) hair transplants, achieving a new level of excellence.
Hair transplant procedures have steadily evolved over the years, both in the Extraction and the Restoration process. Dr. Baubac of Alvi Armani has been leading research and development aimed at giving patients the latest technological advancements.
Dr. Baubac has over ten years' experience performing FUE Hair Transplants. He is renowned for his expertise and experience in follicular unit extraction (FUE) hair transplantation, and is best known in the industry for his his high ethical, clinical, and artistic standards of excellence. Dr. Baubac is a two time winner of the Consumer Choice Award and was recognized as the #1 Hair Restoration surgeon in America in 2015 by Aesthetic Everything's Top 10 list in its annual national survey.
With more and more people having hair restorations these days. Dr. Baubac is at the top of the list of doctors to consider for a hair transplant, and judging by Perez's new hair you can see why.
Perez Hilton after his procedure
To see and learn more about Dr. Baubac and the Alvi Armani Beverly Hills hair transplant clinic, call 310-652-6444 or visit them online at www.alviarmani.com.