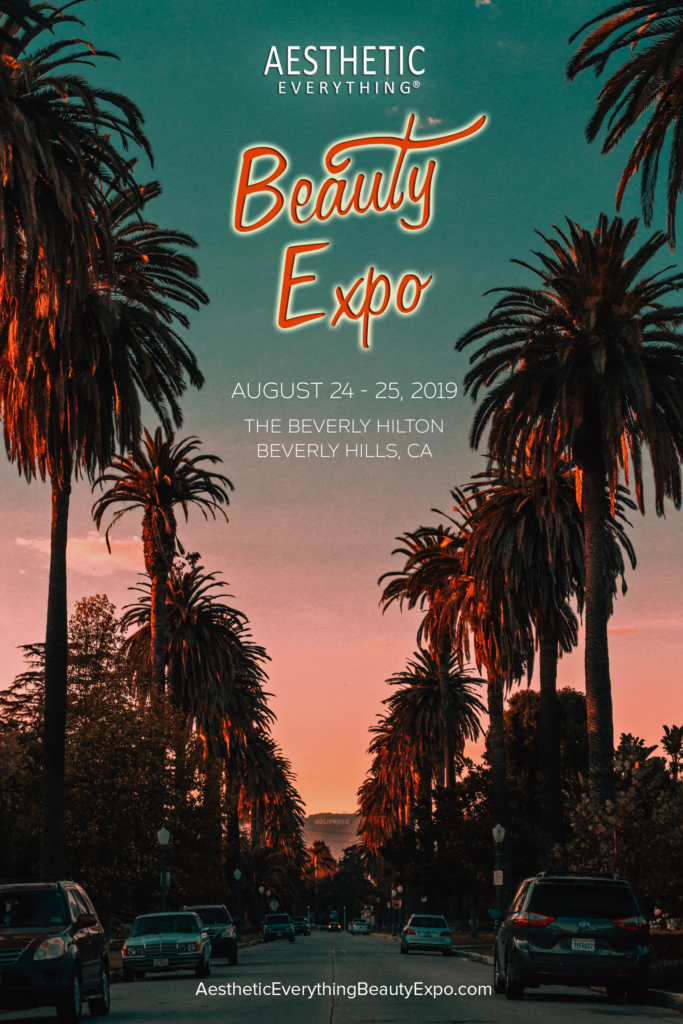 Aesthetic Everything Beauty Expo 2019 at The Beverly Hilton, Beverly Hills, CA
WELCOMES OUR EARLY EXHIBITORS

Candela
Booth #19 | Learn more

Crystal Clear Digital Marketing
Booth #18 | Learn more

Cynosure
Booth #6 | Learn more

DermaConcepts
Booth #21 | Learn more

Elaine Sterling Skincare
Booth #4 | Learn more

InMode
Booth #5 | Learn more

Laurence Rifkin, DDS
Booth #22 | Learn more

Merz
Booth #20 | Learn more

OppGenetix
Table #2 | Learn more

SmartGraft
Booth #7 | Learn more

Synergy MedSales
Table #3 | Learn more

Theresienol MD
Booth #24 | Learn more

The Revenue Hub
Table #8 | Learn more

VI Peel
Booth #3 | Learn more

Zimmer USA
Booth #23 | Learn more
2019 AESTHETIC EVERYTHING BEAUTY EXPO BEVERLY HILLS
View All Links Below for Further Questions. The Saturday Speaker Schedule is Sold Out, however, Sunday is still available. We only have 15 booths left so please contact us asap to reserve your space.
Beauty Expo website:
https://www.aestheticeverythingbeautyexpo.com
2019 Beauty Expo Saturday Talk Schedule:
https://www.aestheticeverythingbeautyexpo.com/saturday
2019 Beauty Expo Exhibitor Kit:
https://docs.wixstatic.com/ugd/2f28f0_3b18387a26154a48b1da542299a0bef9.pdf
2019 Beauty Expo Early Bird Booth Packages Deck:
https://docs.wixstatic.com/ugd/2f28f0_9b7b655f1627498c8ab8d46d71210b8b.pdf
EXPO CONTRACT:
http://aestheticeverything.com/wp-content/uploads/2018/11/Space_Contract_2019_LA_RW.pdf
2019 Tickets and VIP PACKS:
https://aestheticeverythingbeautyexpocelebrityevent.eventbrite.com
2018 Beauty Expo Event Video:
https://youtu.be/ZyYmILBXP2g
Video with Vanessa: "We are here to educate…" – Vanessa Julia/Founder and CEO of Aesthetic Everything
https://youtu.be/ayM9HnuPEoc
2018 Beauty Expo Media Kit:
https://docs.wixstatic.com/ugd/2f28f0_177df95ad98348a2b0d0446e21ee6ac8.pdf
EXAMPLE OF CELEBRITY-MEDIA INTERVIEW WITH COMPANY:
Merz Wins The Aesthetic Everything Inaugural "Aesthetic Industry Market Leadership Award 2018″ At The Aesthetic Everything Beauty Expo!
LETTER: https://madmimi.com/s/1fc14d 
VIDEO: https://vimeo.com/288622073/701e2a845c
Holiday Specials are Here! 50% Off Memberships and 25% off Booths & Tables!
Pricing for ALL Booths and Tables at The Beverly Hills Aesthetic Everything Beauty Expo 2019 has been slashed by 25%!

See you on the Red Carpet in Beverly Hills at The Aesthetic Everything Beauty Expo 2019