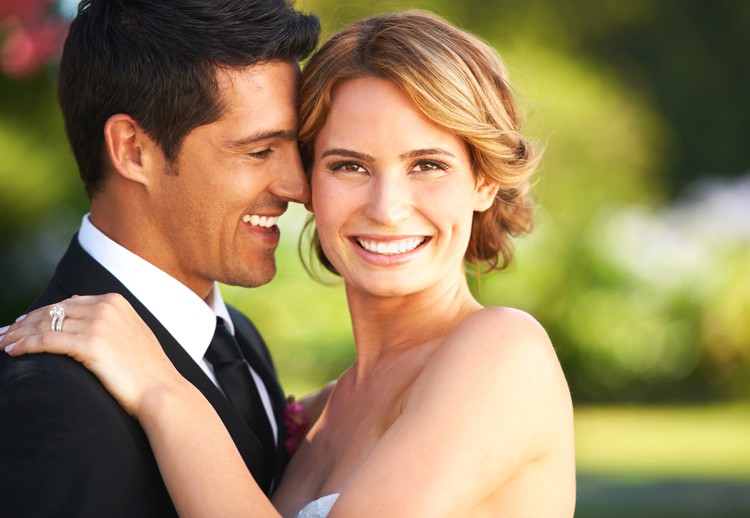 You want your groom to remember your dazzling smile as you walk up the aisle. You're already spending a mountain of time and energy on your make-up and hair. You've chosen a dress that flatters your body type and makes you look like a dream.
So it only makes sense to make sure that your teeth are as white as possible before the big day.
To get the best results you'll need to plan 2 to 3 weeks ahead, set aside a little bit of money, and then commit yourself to taking some actions which will help you maintain your whitest smile. We've also got a few tips for the day of the wedding itself.
2 to 3 weeks before your wedding…see your dentist.
Over-the-counter whitening strips and products aren't going to give you the deep clean you really need. They can provide a slight improvement, but they're mostly good for maintenance (see below). So don't settle for disappointing results. Just budget a trip to your dentist and ask for some professional tooth whitening.
If your teeth and gums are already in good health, this is a painless 1-hour procedure. Otherwise, your dentist may have to address cavities or other issues before you get started. A strong, light-activated whitening gel will show you real, dramatic, and lasting results after a single visit.
As you approach the big day…maintain your results.
There are several things you can do.
First, ask your dentist about take-home whitening trays. These customized trays are often available to help you continue whitening your teeth. You can and should also switch to a whitening toothpaste. The toothpaste can't remove years of stains, but it can help you keep dentist-treated teeth looking great.
Second, you're going to want to be vigilant about what you eat from now until the wedding day. Coffee, tea, soda, and red wine are now officially on the outs. These drinks stain your teeth faster than anything you could possibly put in your mouth, besides cigarettes. Focus on drinking water, instead. Try fruit, mint, or cucumber-infused water if you can't stand the taste of plain tap water.
Eating right can help you maintain your results as well. Crunchy, healthy foods like celery, carrots, and apple slices will help you keep your teeth cleaner. And if you're trying to lose a few pounds they'll help you kill two birds with one stone, too.
Keep them pearly on the day of your wedding.
There are three things you're going to want to do.
First, brush with baking soda and peroxide before you put on your make-up. That's going to help you remove any and all surface stains that may have accumulated over the weeks.
Then, make sure you're putting on a lipstick that's going to show off those pearly wipes to best advantage. You're looking at either a stunning, take-no-prisoners red or pinks, corals, or peach colors with a glossy finish. These will ensure that your lips frame your perfect teeth and amplify the effects you've worked so hard to achieve.
Finally, make sure that you're ready for the reception by tucking some tooth wipes into your purse. These special wipes are designed to help you spot-clean your teeth after you drink red wine or other tooth-staining beverages. This will allow you to enjoy any food or drink you want at your reception. Then you can freshen up your mouth and your smile in a fuss-free way before you hit the dance floor or stand for your wedding photos.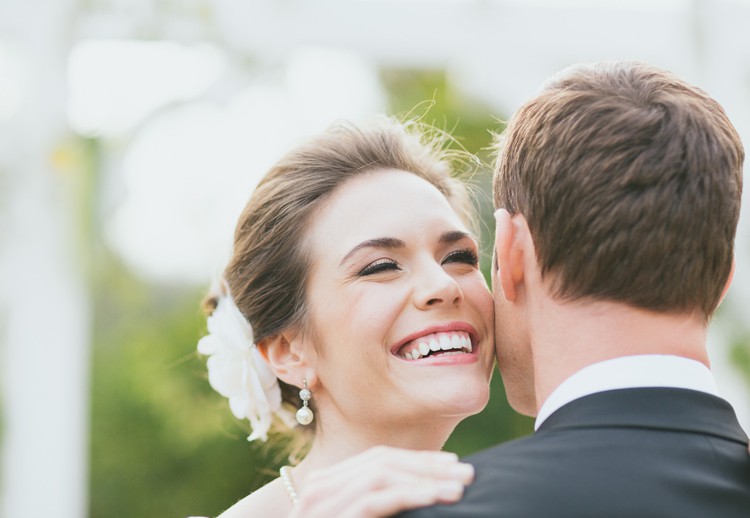 After the wedding…keep the romance alive!
Regular visits to your dentist and a commitment to keeping your teeth as white as possible will help you look your best for your spouse for the rest of your life. And while we can't guarantee that your stunning good looks will help you navigate all the challenges of your new marriage, they certainly can't hurt!
---
You can be a Featured Doctor or Featured Company with Aesthetic Everything. Inquire by e-mailing vanessa@aestheticeverything.com.
This message brought to you by Beauty Wire Magazine, the e-magazine by Aesthetic Everything. If you would like your news or press release shared with the aesthetic industry, please submit your article HERE. If you would like to join our network of over 50,000 aesthetic professionals and over 1 million followers, please click HERE.