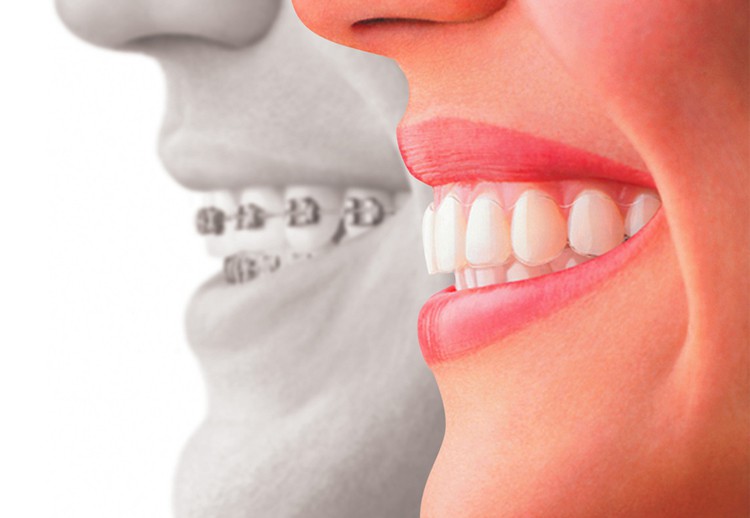 So you've got an underbite, an overbite, or a crowded mouth. However, for whatever reason you didn't get braces when you were younger. Is it too late for you? Is it just a waste of money to consider getting your teeth straightened now that you're older?
There are many reasons why adults are reluctant to discuss orthodontic concerns. Some are mostly worried about having to wear a mouthful of metal. Who wants to look like a junior high kid from the 80s?
It's certainly true that it is, in general, not that socially acceptable for a professional adult to wear braces like a teenager. Fortunately, Invisalign braces meet this need by remaining absolutely discreet. The commercials you've seen are true–the aligners really are virtually undetectable and they really do work. The alignment trays don't interfere with speaking or eating, either.
Adults are also often worried about the costs. Many think, "Well, I've lived with my mouth this long. Should I really spend all this money for vanity's sake?"
While this is a responsible stance, adults should know that straightening your teeth is about far more than mere "vanity." Straightening your teeth is not a purely cosmetic procedure. Tooth straightening is also about your overall oral health. Misaligned teeth are harder to clean, and as you get older you'll find your teeth are a lot less forgiving about reacting to food particles and plaque. As you age it is easier for you to develop cavities, tartar, or gingival problems if you can't reach every corner of your mouth.
In addition, the professional and personal opportunities that come along when you're more confident about your smile tend to help Invisalign braces pay for themselves.  Studies do show that a person's smile is one of the first things people notice and assess when it comes to determining how attractive we are…and for better or worse, people who are attractive tend to get paid more, on average.
And Invisalign braces are more affordable than one might think. They tend to be more affordable than traditional braces are. Offices like ours already know that cost is a concern, so we do take the time to create several different payment options and do our best to work with as many dental insurance plans as possible in order to make the treatment accessible to those who trust us with their care.
Here at Yonkers Avenue Dental we approach Invisalign a bit differently than many offices do. We have an orthodontic background here, and that allows us to anticipate potential issues and adjust for them. In addition, we monitor your progress closely. We don't just send you home with a big box of alignment trays…we meet with you periodically to see how your teeth are progressing and then hand you the next couple of alignment trays in your customized series. This tends to create better results.
Remember, we're as concerned with using Invisalign to improve your overall oral health as we are with straightening your smile…but we do believe you deserve to feel confident about your smile at any age.
---
You can be a Featured Doctor or Featured Company with Aesthetic Everything. Inquire by e-mailing vanessa@aestheticeverything.com.
This message brought to you by Beauty Wire, the new magazine from Aesthetic Everything, and Aesthetic Agency. If you would like your news shared with the aesthetic industry, please submit your article HERE.