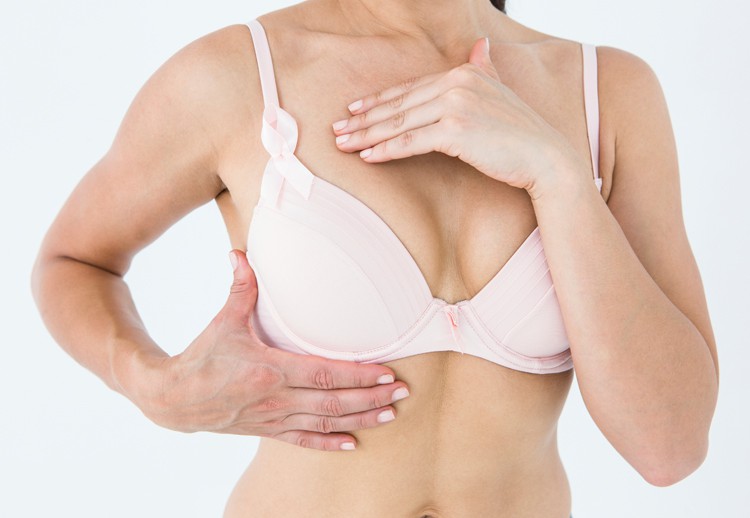 ---
Out here in the desert, even wintertime comes with a little hint of summer. But as we all know, some days are hotter than others — and those days are right around the corner. As we shed our sweaters in favor of warm-weather fashions, it's just no longer possible to disguise a small bust under layers of clothing. Just in time for summer, here are our favorite ways to enhance the size of your bust — plus our recommendations for what to avoid.
Makeup
Even if you haven't tried it for yourself, you're probably already familiar with the concept of using makeup to highlight (or disguise) the curves of your face, a technique called contouring. But contouring doesn't have to stop at the face. The technique can be used to enhance the body in an array of different ways, including, most notably, creating the illusion of a larger bust. There are countless YouTube tutorials to walk you through the surprisingly simple process. And the concept of contouring is simple — lighten the areas you want to stand out, and darken the areas you want to move attention away from. This creates the illusion of dramatic shadows, creating more visual definition.
Clothes
Instead of camouflaging a small bust under piles of heavy clothes, you can create the illusion of bigger breasts with some strategic clothing choices.
Ruffles and pleats add visual volume to the chest, making breasts appear larger. Bikini tops are often designed with ruffles for this exact purpose, and tailored button-down shirts often come with pleats and darts to emphasize the female form.
High necklines don't just draw attention up and away from the breasts. They also create a more linear look, tricking the eye into seeing more volume. (This is why well-endowed women who want to minimize their breasts are advised to avoid this style.)
Defined waists are an easy, quick way to simulate an hourglass figure. Whether it's a peplum top, an embellished belt, or a pretty sash, a little cinch in the middle can go a long way toward showing off your shape.
Surgery
Surgery is a long-term solution that doesn't require a daily investment of time. As evidenced by the wealth of information on the breast augmentation page of the website of Las Vegas' Anson, Edwards & Higgins Plastic Surgery Associates, there's no shortage of potential outcomes to suit every preference. Better still, many of today's techniques use small or well-concealed incisions. By choosing a qualified, board-certified plastic surgeon, you can get results that are as natural-looking (or not) as you want.
What Doesn't Work?
Any vitamin, supplement, pill, or potion that promises larger breasts is fibbing. Barring surgical intervention, there's no proven way to achieve larger breasts. Even purposeful weight gain is unpredictable, as fat doesn't always automatically accumulate in the breasts. At best, breast-enlargement products won't do anything. But at worst, they can contain harmful ingredients that cause uncomfortable or even harmful effects. While there's some anecdotal evidence that birth control pills can make breasts larger, it's not a sure thing. Birth control-related changes in breast sizes are caused by estrogen in the pill. Products that contain hormones should only be taken under a doctor's supervision, and definitely not for the sole purpose of breast enlargement.
---
You can be a Featured Doctor or Featured Company with Aesthetic Everything. Inquire by e-mailing vanessa@aestheticeverything.com.
This message brought to you by Beauty Wire, the new magazine from Aesthetic Everything, and Aesthetic Agency. If you would like your news shared with the aesthetic industry, please submit your article HERE.