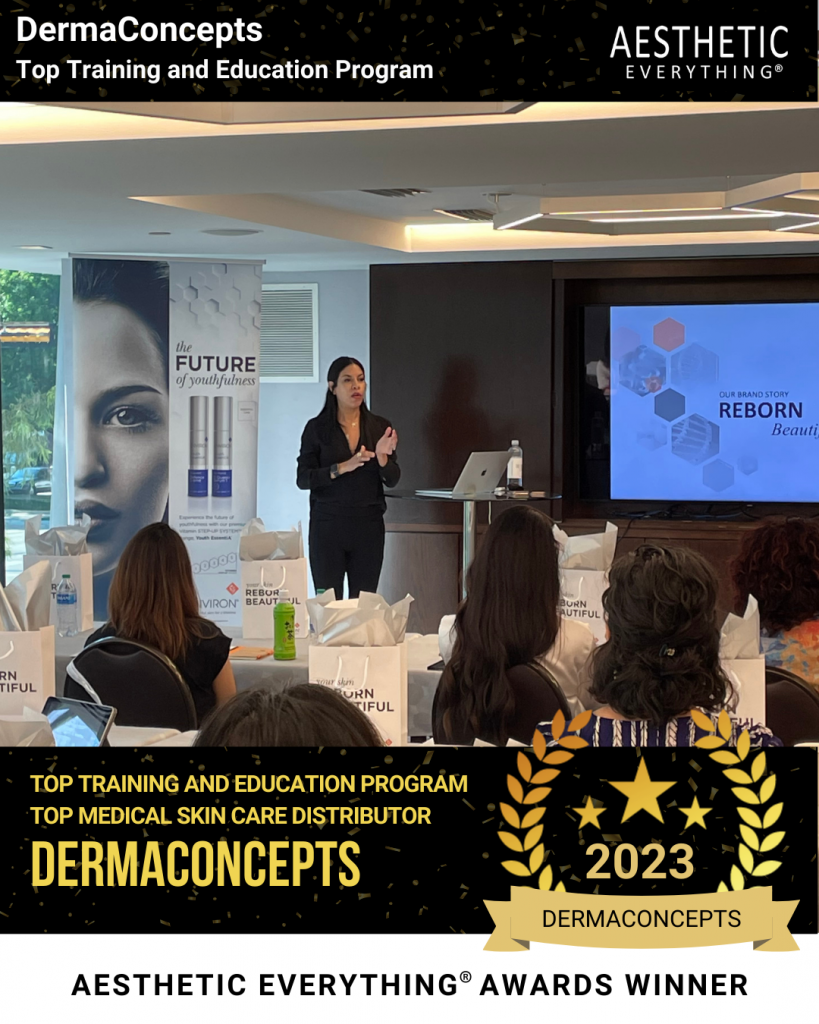 MASHPEE, Mass., — DermaConcepts®/ Exclusive USA Distributors of Environ® Skin Care wins "Top Medical Skin Care Line", "Top Training and Educational Programs", "Top Medical Skin Care Distributor" in the 2023 Aesthetic Everything® Aesthetic and Cosmetic Medicine Awards.
ABOUT DermaConcepts®/ Exclusive USA Distributors of Environ® Skin Care:
DermaConcepts, exclusive USA Distributor of Environ Skin Care, provides results-driven at-home and professional treatment products and technology, backed by clinical studies and science, that are a generation ahead of other skin care companies.
Vitamin A, Environ's cornerstone ingredient, along with vitamins C, E antioxidants, peptides, hydroxy acids, growth factors and HA, are incorporated into their proprietary STEP-UP SYSTEM, created to help patients be more comfortable with increasing levels of ingredients to assist in restoring, protecting and maintaining the appearance of a healthy-, youthful-looking and beautiful skin.
Environ has its own state-of-the art manufacturing facility and has been awarded the Swiss Vitamin Institute logo, verifying the strength and effectiveness of their vitamin A moisturizers and serums. DermaConcepts provides industry leading education, marketing support and an innovative business model, guaranteeing ROI results for a practice and outstanding patient satisfaction.
PRODUCTS
Environ Skin Care
Environ Cosmetic Needling Rollers
Skin Analysis System
Myriad of Technology to Enhance the Efficacy of Topical Products
Unique Cool Peel® System
EDUCATION
DermaConcepts®/ Exclusive USA Distributors of Environ® Skin Care offers over 600 in person educational and professional development programs throughout the United States.
AWARDS AND RECOGNITIONS
Environ Skin Care has been awarded over 100 recognitions for outstanding products worldwide. It is also certified by the Swiss Vitamin Institute for formula integrity. It is one of the few high end pharmaceutical grade skin care brands that owns its own certified manufacturing facility that meets OTC requirements. It's 230 person factory staff only makes its own branded products.
CONTACT
"DermaConcepts®/ Exclusive USA Distributors of Environ® Skin Care"
168 Industrial Drive Building 1
Mashpee, MA 02649
508-539-8900
https://dermaconcepts.com
About Aesthetic Everything®:
Aesthetic Everything® is the largest network of aesthetic professionals in the world, and is the #1 promotion source for all information in the aesthetics industry. Aesthetic Everything has been handing out aesthetic industry awards for 14 years with over 10,000 awards given and over 900 million links to awards winners news and information in google search.
SOURCE Aesthetic Everything