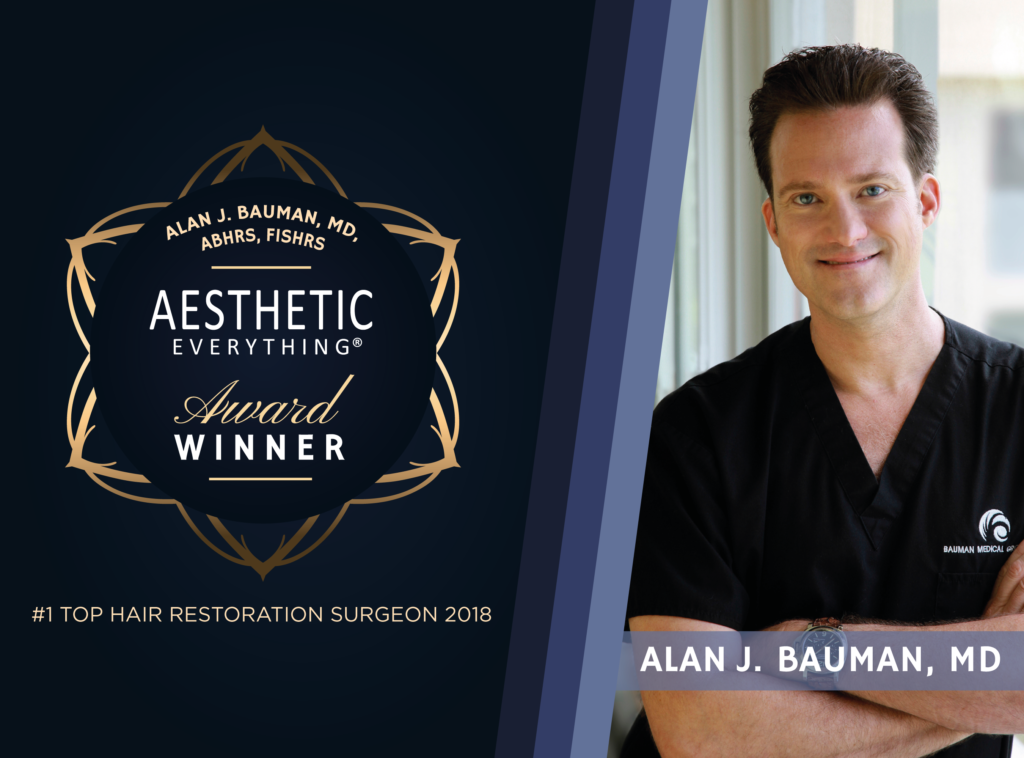 Pioneer Hair Transplant Surgeon Dr. Alan J. Bauman Wins "#1 Top Hair Restoration Surgeon" in Aesthetic Everything® Awards
READ CISION RELEASE FOR TIMES SQUARE
---
BOCA RATON, Fla., Oct. 15, 2018 /PRNewswire-iReach/ — Alan J. Bauman, MD, ABHRS, FISHRS was named "#1 Top Hair Restoration Surgeon" for the second year in a row in the annual Aesthetic Everything® Awards. The 2018 Aesthetic Everything® Aesthetic and Cosmetic Medicine Awards tapped winners from over 30,000 votes cast. Voting was held online between September 1st and October 1st, 2018. All votes were counted to obtain the list of winners. The Award winners for excellence in the field of Aesthetics span the categories of Companies, CEOs, Presidents, Executives, Doctors, Med Spas, Aestheticians, Nurses, Staff, Products, Services, Training, Publications, Meetings, Charities, Videos, and more.
"Being voted '#1 Top Hair Restoration Surgeon' for the second-straight year in the Aesthetic Everything® Awards is truly gratifying. To me, each and every vote is an acknowledgement that my efforts to provide the most effective treatments in a caring environment are truly valued by both patients and by my colleagues in the aesthetic industry," said Dr. Bauman.
His win in the Aesthetic and Cosmetic Medicine Awards is the most recent prestige earned by Dr. Bauman, but it is one of many that preceded it. He is also one of only some 200 physicians worldwide to achieve certification from the American and International Board of Hair Restoration Surgery. He is the first-ever hair transplant surgeon to be formally accepted as an Intercoiffure America/Canada Industry Partner.
Dr. Bauman received his medical degree at New York Medical College. He did his surgical residency at Mt. Sinai Medical Center and Beth Israel Medical Center in New York City, where he also completed his hair transplant Fellowship. He became a full-time hair transplant surgeon and founded his medical practice in Boca Raton, Florida in 1997. He is the author of numerous articles and textbook chapters on the science of hair care and hair transplantation, including eyelash transplant surgery. He is a pioneer of some of the most advanced technologies in the effective treatment of hair loss, like Platelet Rich Plasma (PRP) hair regrowth treatments, robotic hair transplants and medical-grade 3D printed custom hair and scalp cranial prosthesis.
Dr. Bauman's compassionate, patient-oriented philosophy and individualized artistic approach to protecting, enhancing, and restoring the health and appearance of the hair and scalp has provided life-changing solutions for thousands of patients. To date, he has treated nearly 20,000 patients and performed more than 8000 hair transplant surgeries.
About Bauman Medical:
Dr. Bauman and the medical team at Bauman Medical Hair Transplant and Treatment Center, located in Boca Raton, Florida, take great pride in providing advanced procedures and treatments, accurate information and, most importantly, a professional yet personalized approach.
Bauman Medical specializes in treating men and women for many types of hair loss, including male pattern hair loss, side burn and beard transplantation, female pattern hair loss, traumatic scars from burns or injury, eyebrow loss, eyelash loss, alopecia, and chemotherapy hair loss.
Bauman Medical offers in-office and virtual consultations with Dr. Bauman from anywhere in the world. In addition to this, through the Bauman Philanthropic Foundation, the clinic is able to provide pro-bono hair restoration, surgical hair transplantation, and medical treatments to patients in need.
To learn more about Dr. Bauman and Bauman Medical, visit them online at https://www.baumanmedical.com/
VIEW FEATURED MEMBER PROFILE: https://aestheticeverything.com/listing/bauman-medical/
About Aesthetic Everything®:
With almost 10 years in business, Aesthetic Everything® is the largest network of aesthetic and beauty professionals in the world. This is the seventh year that Aesthetic Everything® has presented hundreds of awards to deserving and hard-working professionals and companies within the aesthetic industry. The company's success is rooted in their over 200,000 aesthetic industry subscribers and over one million engaged social media connections.
Aesthetic Everything® has been featured in numerous publications including ABC, NBC, FOX, CBS, WSJ, Entertainment Tonight, Good Morning America, Radar Online, Haute Living, Life and Style, E! Online, Reality Tea, OK! Magazine, US Weekly, AOL, Naluda Magazine, Inform New York, Getty Images, Yahoo, Scottsdale Health, Modern Luxury Magazine, Pop Sugar and has also been mentioned in millions of websites and publications worldwide.
LEARN MORE ABOUT AESTHETIC EVERYTHING
---
Media Contact: Danna Can, Can Publicity, (305) 776-7715, Danna@canpublicity.com
SOURCE Bauman Medical
---
Kind regards,
Aesthetic Everything Team