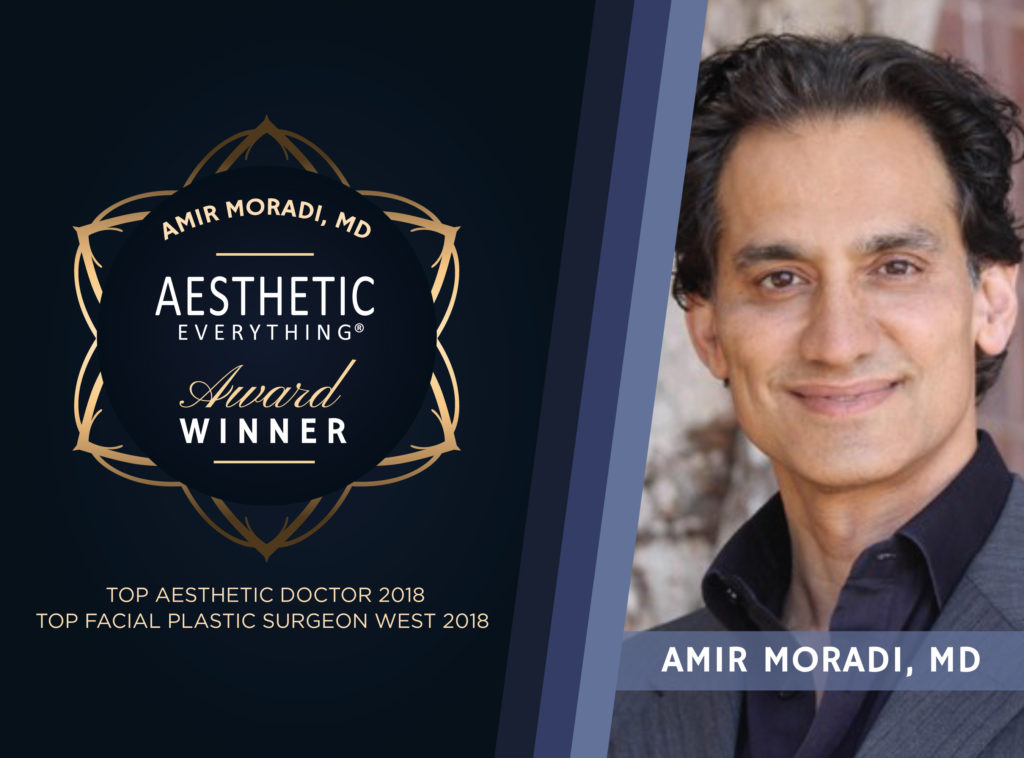 Dr. Amir Moradi Receives Double Wins in Aesthetic Everything® 2018 Awards, Nabs "Top Aesthetic Doctor" and "Top Facial Plastic Surgeon West"
READ CISION RELEASE FOR TIMES SQUARE
---
SAN DIEGO, Oct. 10, 2018 /PRNewswire-iReach/ — Amir Moradi, MD, MBA, of the Moradi MD Center was honored with two prestigious Aesthetic Everything® Aesthetic and Cosmetic Medicine Awards. Chosen as a 2018 "Top Facial Plastic Surgeon" as well as a "Top Aesthetic Doctor", Dr. Moradi adds these to his long list of accolades and achievements.
This year's Aesthetic Everything® Aesthetic and Cosmetic Medicine Awards tapped winners from over 30,000 votes cast. Voting was held online between September 1st and October 1st, 2018. All votes were counted to obtain the list of winners. The Award winners for excellence in the field of Aesthetics span the categories of Companies, Products, CEOs, Presidents, Executives, Doctors, Med Spas, Aestheticians, Nurses, Staff, Services, Training, Publications, Meetings, Charity, Videos and more.
In response to his double-wins in the Aesthetic Everything® Aesthetic and Cosmetic Medicine Awards, Dr. Moradi said, "It is quite an honor to be the recipient of two awards, "Top Facial Plastic Surgeon" and "Top Aesthetic Doctor". This is a testament to the outstanding service our team renders to our patients and clients they come in contact with. We are humbled by the votes of our patients and colleagues that have placed us in Best Categories for three consecutive years. We are also thankful for the fairness and objectivity of the Aesthetic Everything® team."
Dr. Moradi is double board-certified by the American Board of Facial Plastic & Reconstructive Surgery and the American Academy of Otolaryngology Head & Neck Surgery. He graduated summa cum laude from UCSD, where he received Phi Beta Kappa and National Honors Society awards. He also completed his medical degree at UCSD and went on to Duke University Medical Center for his surgical training. Dr. Moradi received his MBA from Wharton School of the University of Pennsylvania. He is also highly trained in injections and laser technology. This enables him to expertly execute and train colleagues in aesthetic treatments using technologies including Sciton lasers, BTL devices, his own facelift technique, rhinoplasty, CoolScultping®, and other body contouring techniques. Additionally, his center, Moradi MD, conducts a variety of FDA research trials.
About Dr. Amir Moradi and Moradi MD Center:
Dr. Moradi served on the Cooperative American Physicians Board of Directors and was the chairman of the Patient Safety Committee. He has been featured in multiple aesthetic and medical journals. His studies and innovation in the industry are so well esteemed that they have earned him research grants and funding in order to continue his influential work. Outside of the office, Dr. Moradi gives much of his time to serving the community and helping his peers with training, speaking engagements, and consulting.
Operating from San Diego, California, the Moradi MD Center is a highly regarded and state-of-the-art cosmetic center that offers both surgical and non-surgical procedures. Dr. Moradi and his skilled medical team deliver the cosmetic procedure results that their clients desire. Moradi MD utilizes the latest modern cosmetic techniques for skin, face, and body. With the Moradi MD Center, Dr. Moradi has created a practice that is dedicated to enhancing beauty through the science and art of facial rejuvenation.
For more information on Dr. Moradi and the Moradi MD center, visit: https://moradimd.com/.
VIEW FEATURED MEMBER PROFILE: https://aestheticeverything.com/listing/amir-moradi-md/
About Aesthetic Everything®:
With almost 10 years in business, Aesthetic Everything® is the largest network of aesthetic and beauty professionals in the world. This is the seventh year that Aesthetic Everything® has presented hundreds of awards to deserving and hard-working professionals and companies within the aesthetic industry. The company's success is rooted in their over 200,000 aesthetic industry subscribers and over one million engaged social media connections.
Aesthetic Everything® has been featured in numerous publications including ABC, NBC, FOX, CBS, WSJ, Entertainment Tonight, Good Morning America, Radar Online, Haute Living, Life and Style, E! Online, Reality Tea, OK! Magazine, US Weekly, AOL, Naluda Magazine, Inform New York, Getty Images, Yahoo, Scottsdale Health, Modern Luxury Magazine, Pop Sugar and has also been mentioned in millions of websites and publications worldwide.
LEARN MORE ABOUT AESTHETIC EVERYTHING
---
Media Contact: Julie Moradi, Moradi MD, 760-726-6451, info@moradimd.com
SOURCE Moradi MD Center
---
Kind regards,
Aesthetic Everything Team