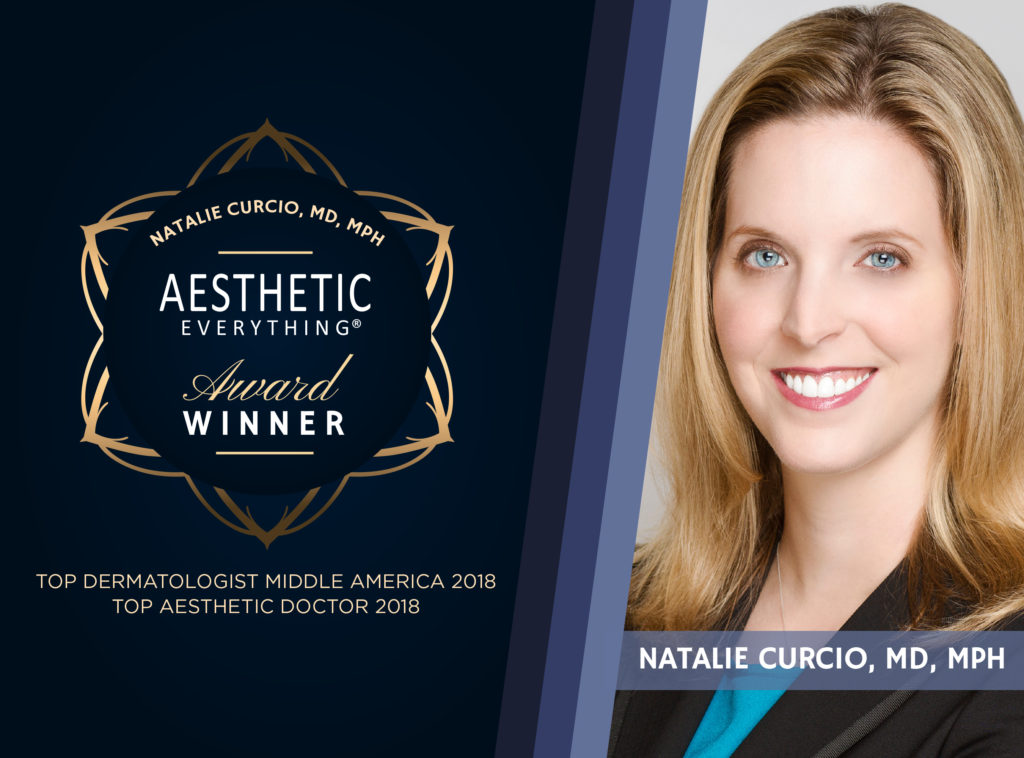 Dr. Natalie Curcio Lands Two Aesthetic Everything® Awards, Is Named "Top Aesthetic Doctor" and "#1 Top Dermatologist Middle America"
READ CISION RELEASE FOR TIMES SQUARE
---
NASHVILLE, Tenn., Oct. 17, 2018 /PRNewswire-iReach/ — In the 2018 Aesthetic Everything® Awards, Dr. Natalie Curcio earned the honors of "Top Aesthetic Doctor" and the prestigious "#1 Top Dermatologist Middle America".
This year's Aesthetic Everything® Aesthetic and Cosmetic Medicine Awards tapped winners from over 30,000 votes cast. Voting was held online between September 1st and October 1st, 2018. All votes were counted to obtain the list of winners. The Award winners for excellence in the field of Aesthetics span the categories of Companies, CEOs, Presidents, Executives, Doctors, Med Spas, Aestheticians, Nurses, Staff, Services, Training, Publications, Meetings, Charity, Videos and more.
"It's an honor to be regarded so highly by my peers and the industry, I'm incredibly grateful" said Dr. Curcio regarding her Aesthetic Everything® Award wins.
The 2018 award from Aesthetic Everything® is among the most recent honors bestowed to Dr. Curcio. Prior, she was selected as a Castle Connolly Top Doctor in Dermatology since 2016 and received the Inaugural Award for Exceptional Women in Medicine in Dermatology for 2017. The New York Times has named her a Top Cosmetic Doctor and Top Doctor in the USA. Additionally, she was named as one of Nashville's 2018 40 under 40 Most Influential People.
About Natalie Curcio, MD, MPH:
Dr. Curcio practices cosmetic, surgical, and medical dermatology at Curcio Dermatology, P.C. in Nashville, TN. She graduated Summa cum laude, Phi Beta Kappa from Vanderbilt University with a Bachelor of Arts in Spanish literature and completed her medical studies, as well as her dermatology residency, at Vanderbilt University in Nashville, TN. In addition, Dr. Curcio completed two prestigious fellowships – one in Dermatologic Cosmetic & Laser Surgery at UCSF in San Francisco, CA with Richard Glogau, MD and Roy Grekin, MD, and the other in Procedural Dermatology/Mohs Micrographic Surgery in Birmingham, AL with Gary Monheit, MD.
Dr. Curcio is board-certified by the American Board of Dermatology. She is a fellow of the American Academy of Dermatology, the American College of Mohs Surgery, the American Society for Dermatologic Surgery, and the American Society for Lasers, Medicine, and Surgery. She is an associate of the American Academy of Cosmetic Surgery, among others. She is a member of the International Society for Dermatologic Surgery, the Women's Dermatologic Society and the History of Dermatology Society.
Dr. Curcio is a luminary and/or consultant for several laser companies, cosmeceutical companies, and filler companies and serves on several medical advisory boards. She lectures nationally and internationally and has contributed journal articles to the medical literature. Dr. Curcio is multi-lingual and speaks Spanish, French, Portuguese and Italian and has lived, studied, and worked overseas.
To learn more about Dr. Natalie Curcio and her practice, please visit https://www.curciodermatology.com/.
VIEW FEATURED MEMBER PROFILE: https://aestheticeverything.com/listing/curcio-dermatology/
About Aesthetic Everything®:
With almost 10 years in business, Aesthetic Everything® is the largest network of aesthetic and beauty professionals in the world. This is the seventh year that Aesthetic Everything® has presented hundreds of awards to deserving and hard-working professionals and companies within the aesthetic industry. The company's success is rooted in their over 200,000 aesthetic industry subscribers and over one million engaged social media connections.
Aesthetic Everything® has been featured in numerous publications including ABC, NBC, FOX, CBS, WSJ, Entertainment Tonight, Good Morning America, Radar Online, Haute Living, Life and Style, E! Online, Reality Tea, OK! Magazine, US Weekly, AOL, Naluda Magazine, Inform New York, Getty Images, Yahoo, Scottsdale Health, Modern Luxury Magazine, Pop Sugar and has also been mentioned in millions of websites and publications worldwide.
LEARN MORE ABOUT AESTHETIC EVERYTHING
---
Media Contact:
Anu Pardeshi
Curcio Dermatology, P.C.
anu@curciodermatology.com
615-679-9011
Media Contact: Vanessa Julia, Aesthetic Everything, 310-754-0257, vflorez@icloud.com
SOURCE Aesthetic Everything
---
Kind regards,
Aesthetic Everything Team