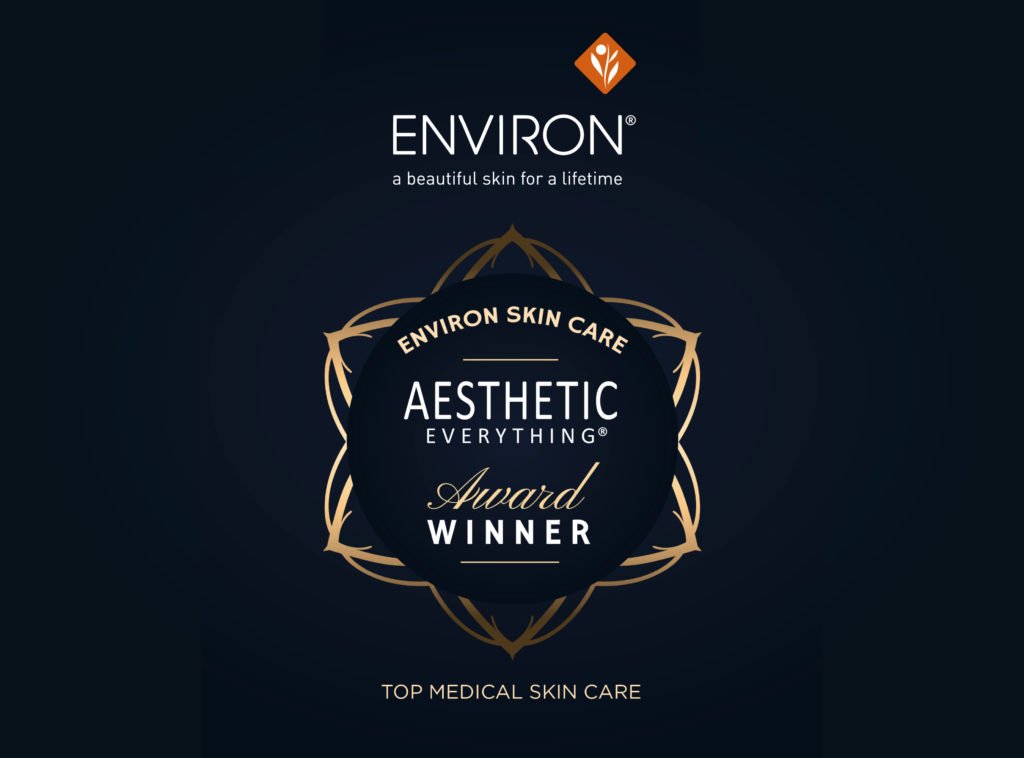 Environ® Skin Care Receives 2018 "Top Medical Skin Care" Aesthetic Everything® Aesthetic and Cosmetic Medicine Award
Congratulations, Environ® Skin Care and DermaConcepts on Your 2018 "Top Medical Skin Care" Aesthetic Everything® Aesthetic and Cosmetic Medicine Award!
READ CISION RELEASE FOR TIMES SQUARE
---
MASHPEE, Mass., Oct. 4, 2018 /PRNewswire-iReach/ — Environ® Skin Care was voted a "Top Medical Skin Care" company in the Aesthetic Everything® Awards. This year's 2018 Aesthetic Everything® Aesthetic and Cosmetic Medicine Awards tapped winners from over 30,000 votes cast. Voting was held online between September 1st and October 1st, 2018. All votes were counted to obtain the list of winners. The Award winners for excellence in the field of Aesthetics span the categories of Companies, CEOs, Presidents, Executives, Doctors, Med Spas, Aestheticians, Nurses, Staff, Services, Training, Publications, Meetings, Charity, Videos and more.
The catalyst for Environ® Skin Care products' success in America over the past 25 years is its exclusive USA distributor, DermaConcepts. The research and results-oriented skin care company is owned and managed by Rob and Carol Trow. Carol Trow, B.Sc., RN, has 20 years of experience in marketing and practice enhancement for plastic surgeons, cosmetic dermatologists, lawyers and CPAs. Rob Trow is widely recognized as an authority on skin care, having published hundreds of articles on the topic. He earned a bachelors degree, multiple masters degrees and did doctorial studies at Harvard University. His expertise covers both the science of serious skin care and practical business solutions to operating a professional skin care practice.
On capturing the winning votes for "Top Medical Skin Care" in the 2018 Aesthetic Everything® Aesthetic and Cosmetic Medicine Awards, Carol and Rob Trow said, "Environ is honored to have won the award of 'Top Medical Skin Care'. We, along with the founders, Dr. Des Fernandes, Val Carstens, our R&D department, and our extraordinary USA team, are proud of the recognition as the most efficacious products for the appearance of more youthful, healthy-looking and beautiful skin."
Well acquainted with acclaim like their prestigious "Top Medical Skin Care" win, Environ® Skin Care has received over 100 other recognitions for outstanding products worldwide. It was also awarded the Swiss Vitamin Institute seal, verifying the strength and effectiveness of their vitamin A moisturizers and serums. The brand is favored and lauded by international skin care therapists, dermatologists, beauty editors, top film stars and super models.
About Environ® Skin Care:
Environ® Skin Care is an innovative and successful global business that promises, "We will keep making skin beautiful for generations to come, because we exist to keep skin beautiful for life."
In 1990, Environ® Skin Care was founded in Cape Town, South Africa by Dr. Des Fernandes, a globally top-rated plastic surgeon. He spearheaded Environ's expansion to 140 products and distribution in over 70 countries. A skin care pioneer, Dr. Des placed the utmost priority on R&D of new products.
Environ® is based in three essential principals for success. First, Education of Skin Care Professionals using modern, multi-medium methodologies. Second, contemporary and highly effective Professional Skincare Protocols that deliver facial experiences and results like no other. Third, Powerhouse Formulations that help to make a lasting difference in the appearance of the skin. Environ® finds this success as a direct result of the scientifically proven effectiveness of their products.
Vitamin A is the cornerstone ingredient in Environ® products. Vitamins C, E, antioxidants, peptides, hydroxy acids, growth factors and HA are incorporated into their proprietary STEP-UP SYSTEM™. Environ's product categories include Skin Care, Skin Analysis Devices, a unique Cool Peel System, Cosmetic Needling Devices and other devices to enhance the efficacy of topical products.
Environ products are only sold by authorized professionals. Environ® and their exclusive US distributor, DermaConcepts, offer over 600 in-person educational and professional development programs throughout the United States.
Learn more about Environ® Skin Care and their exceptional products by visiting them online at https://dermaconcepts.com/.
VIEW FEATURED MEMBER PROFILE: https://aestheticeverything.com/listing/dermaconcepts-environ-skin-care/
About Aesthetic Everything®:
With almost 10 years in business, Aesthetic Everything® is the largest network of aesthetic and beauty professionals in the world. This is the seventh year that Aesthetic Everything® has presented hundreds of awards to deserving and hard-working professionals and companies within the aesthetic industry. The company's success is rooted in their over 200,000 aesthetic industry subscribers and over one million engaged social media connections.
Aesthetic Everything® has been featured in numerous publications including ABC, NBC, FOX, CBS, WSJ, Entertainment Tonight, Good Morning America, Radar Online, Haute Living, Life and Style, E! Online, Reality Tea, OK! Magazine, US Weekly, AOL, Naluda Magazine, Inform New York, Getty Images, Yahoo, Scottsdale Health, Modern Luxury Magazine, Pop Sugar and has also been mentioned in millions of websites and publications worldwide.
LEARN MORE ABOUT AESTHETIC EVERYTHING
---
Media Contacts:
Lillian Wray Krohn
Senior Account Executive
Phone: 212-598-4400 ext. 191
Phoebe Malles Ward
Senior Vice President, Media
Phone:212-598-4400 ext 103
SOURCE Environ® Skin Care
---
Kind regards,
Aesthetic Everything Team