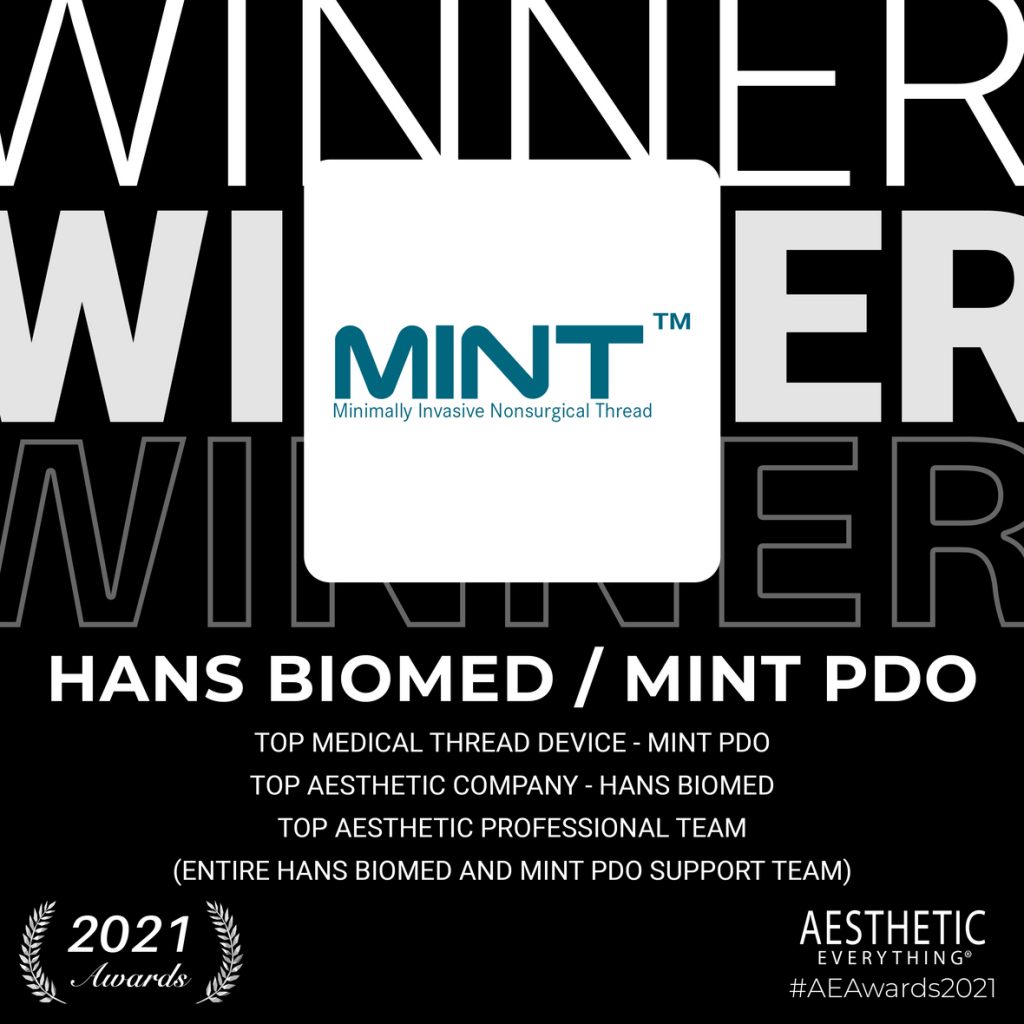 Santa Fe Springs, CA — HansBiomed USA makers of MINT PDO Wins "Top Medical Thread Device", "Top Aesthetic Company" and "Top Professional Team" in the Aesthetic Everything® 2021 Aesthetic and Cosmetic Medicine Awards. Voting was held online between January 13th and February 7th, 2021, with winners being announced on February 8th, 2021. All votes were counted to obtain the list of winners.
ABOUT:
Founded in 2011, HansBiomed USA Inc. is one of the global leaders in bio-engineering, and our mission is to assist medical service providers in improving the lives of our patients through revolutionary products in biologics and aesthetic medicine. Our minimally invasive aesthetic line includes MINT™, the internationally recognized PDO threads backed by science and innovation.
The award-winning global brand MINT™ offers the most robust PDO threads on the market. In 2020, it became the only medical device of its kind to earn dual FDA clearances for soft tissue approximation and a lifting indication for nasolabial fold depth reduction. MINT™ is backed by more than 6 years of clinical studies for its efficacy, and it is manufactured through an innovative patented technology to offer a broad product portfolio and to address a wide range of aesthetic needs. This revolutionary technology allows instant yet profound results while minimizing pain & trauma – allowing patients to benefit from shorter recovery times and providing an alternative for those who may not be ready for surgery.
As the winners of the 2021 Aesthetic Everything Awards for Top Aesthetic Company, Top Medical Thread Device, and Top Aesthetic Professional Team, HansBiomed USA Inc. is committed to working with physicians and patients to deliver safe, innovative, and meaningful treatments that help patients look and feel more beautiful and will continue to strive to bring the best-in-class quality and service for all things MINT™.
CONTACT:
HansBiomed USA, Inc.
10350 Heritage Park Dr. Suite 201 Santa Fe Springs, CA 90670
Phone: (562) 777-7043
http://www.mintpdo.com/
http://www.hansbiomed.com/eng/
About Aesthetic Everything®:
Aesthetic Everything® is the largest network of aesthetic professionals in the world. They host the Beauty Expo Trade Show & Celebrity/Media Red Carpet Awards. Aesthetic Everything® 2021 Beauty Expo and the accompanying awards ceremony will be June 12th, 2021.
Media Contact:
VANESSA JULIA FLOREZ
CEO AND FOUNDER
AESTHETIC EVERYTHING®
E-MAIL: vanessa@aestheticeverything.com
IG: https://www.instagram.com/aestheticeverything1/
PLEASE VIEW LINK FOR ALL WEBSITES AND INFO:
https://madmimi.com/s/5f43f11
SOURCE Aesthetic Everything
Related Links