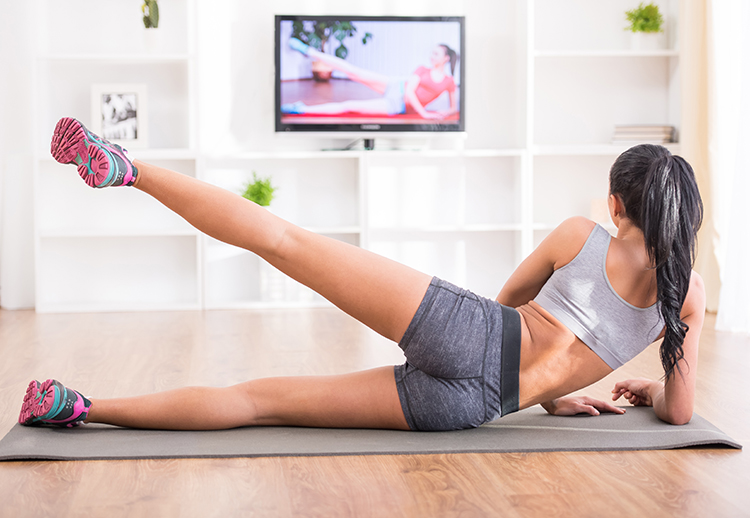 Once you've gone under the knife, you might be eager to get back to normal as soon as you can. But it's important to remember that plastic surgery is still surgery, so if you want the best results, your body needs you to take it easy for a while. If fitness is a big part of your life, that's going to be difficult.
That doesn't mean you'll need to be a couch potato for weeks on end, but you will need to rethink your workouts. Follow this guide to learn how.
Start Light (But Not Sedentary)
For the first week or 2, be very forgiving and attentive to your body's needs, and slow down. Around the house, don't lift anything over 5 pounds, and don't do anything that puts unnecessary strain on your body. The best thing you can do for yourself is allow your body to heal.
That said, don't let yourself get stir crazy. It's important to get up and move around, even the day after surgery, because it will prevent blood clots from forming. You can take walks, even long walks, but listen to your body and don't elevate your heart rate. Particularly if you've had facial work done or a nose job, keep in mind that breathing will be a little tougher in those first few weeks because of swelling — so don't push it just because you want to keep your cardio up.
If you've had work done on your breasts or elsewhere, pay attention to the incision areas and don't do any activities that put too much tension on them. Again, your body will set your limits for you.
Stay Indoors When You Can
While your body is healing, direct sunlight can damage your incisions and cause them to darken. Sunburn is the enemy: It may cause additional swelling, and it will definitely add some healing time.
Keep that in mind when you resume (light) aerobic activity after the first 2 weeks, you should plan for an indoor workout routine. Manage your expectations, too: a spin class is out of the question because of the intensity and the motions on the bike. Even a fitness class at your local gym or Pilates studio might be too strenuous, and you might feel self-conscious about your bandages.
Instead, take a look at streaming workout services like Daily Burn or Crunch Live. They offer great variety, so you can find what works best for you, and skip any exercises focused on the areas where you've had work done. No planks or crunches if you've had a tummy tuck, and no push-ups or chest flies if you've had breast augmentation or lift. And no free weights, no matter what procedure you've had.
Put Your Yoga Practice On Hold
If you're looking to get any work done on your face, then sun salutations will have to wait. A few seated poses might be fine, but forget about standing series and arm balances, and avoid inversions (any movement that involves turning your head upside-down) for at least the first month after surgery. Rest assured, though, that when you do get back to practicing, your Ujjayi breathing will be even fuller and deeper. Chicago plastic surgeon Dr. Thomas Mustoe says a nose job often corrects breathing problems in addition to providing aesthetic improvements, so it's a win-win.
If you're missing the time on your mat or feel like you have to get out of the house, consider a mindfulness or guided meditation class. It has the same mental, stress-relieving benefits of a typical yoga class, without having to exert so much physical energy.
No Contact Sports, Either
This probably goes without saying, but sudden, jarring motions will undo all the work your plastic surgeon has done. In fact, it's best to avoid any sport with the possibility of contact for a good 5 or 6 months, because the tissue surrounding your procedure will still be weakened even after your healing is complete.
If fitness is important to you, you'll find a way to make it work. It's all about listening to your body, and letting it guide you to a new routine after having plastic surgery. And when it feels limiting and frustrating, remember the end goal: looking and feeling beautiful.
---
You can be a Featured Doctor or Featured Company with Aesthetic Everything. Inquire by e-mailing vanessa@aestheticeverything.com.
This message brought to you by Beauty Wire, the new magazine from Aesthetic Everything, and Aesthetic Agency. If you would like your news shared with the aesthetic industry, please request a quote from Vanessa.