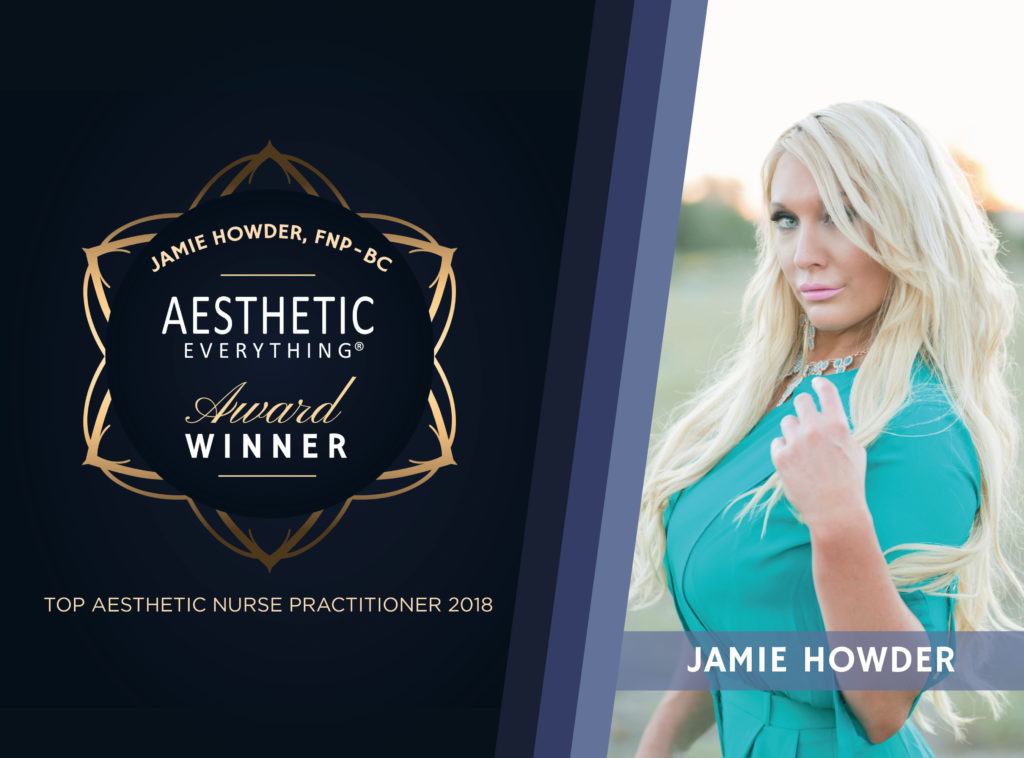 Nurse Practitioner Jamie Howder Receives Repeat Aesthetic Everything® Aesthetic and Cosmetic Medicine Award
Howder Voted A "Top Aesthetic Nurse Practitioner" 2018 for Second Year Running
READ CISION RELEASE FOR TIMES SQUARE
---
REDLANDS, Calif., Oct. 3, 2018 /PRNewswire-iReach/ — Jamie M. Howder, FNP-BC was voted a "Top Aesthetic Nurse Practitioner" for the second straight year in the Aesthetic Everything® Awards. This year's 2018 Aesthetic Everything® Aesthetic and Cosmetic Medicine Awards tapped winners from over 30,000 votes cast. Voting was held online between September 1st and October 1st, 2018. All votes were counted to obtain the list of winners. The Award winners for excellence in the field of Aesthetics span the categories of Companies, CEOs, Presidents, Executives, Doctors, Med Spas, Aestheticians, Nurses, Staff, Services, Training, Publications, Meetings, Charity, Videos and more.
In response to receiving the Aesthetic Everything® Aesthetic and Cosmetic Medicine Award for "Top Aesthetic Nurse Practitioner", Jamie Howder said, "Our patients are the single most important factor for our success. Top customer service is crucial and it is important that our patients feel valued as soon as they walk into our practice. This honor of being voted a "Top Aesthetic Nurse Practitioner" 2018 reflects our practice's commitment to providing our patients with the best customer service and the best treatments to help them achieve the best version of themselves. They may walk in as a patient, but they will leave as a friend!"
At the age of 20, Howder began her career as an ER registered nurse. Her medical knowledge and devotion to patient care led her to rapidly advance to emergency room Charge Nurse within a year. There, she led a team of nurses r with physicians and a multidisciplinary team. The challenging work in the ER energized and inspired her. Reflecting on her days in the ER, Howder noted, "At the end of every shift – worn out or not worn out – I felt like I had made a difference in the care I provided to my patients. Whether it was holding the hand of a dying patient who had no family, to doing chest compressions to save a life, to helping assist birthing an emergency delivery of a newborn baby, the life of the emergency department was always changing. While working in the emergency department, I continued my education to become a family nurse practitioner."
In 2010, she earned a degree as a Family Nurse Practitioner. She then shifted into the field of Cosmetic Dermatology and Medical Aesthetics. Her degrees include MSN-FNP, Family Nurse Practitioner and BSN from the University of Phoenix as well as a Masters of Science from Loma Linda University School of Nursing. Howder's certifications include: Board Certified Family Nurse Practitioner; Board Certified in Bioidentical Hormone Replacement Therapy; Certified in Injectables of the Face; Certified In Laser Medicine.
Ms. Howder currently practices at Hospitality Skin Spa & Aesthetics in Redlands, California. The Med Spa, itself, is no stranger to awards, having been voted a "Best Day Spa" on the Inland Empire HOT LIST.
About Hospitality Skin Spa & Aesthetics:
Hospitality Skin Spa & Aesthetics, located in Redlands, California, is a full-service day spa offering the latest innovations and technology in personal beauty care. Their wide range of treatments include dermal injectables, laser treatments, a variety of facials, PRP hair restoration, laser hair removal, microblading and much more. The staff of extensively trained professionals guide clients every step of the way, creating customized treatment plans to help them achieve their beauty goals. Visit them online to learn more: www.hospitalityaesthetics.com.
VIEW FEATURED MEMBER PROFILE: https://aestheticeverything.com/listing/jamie-howder-fnp-bc/
About Aesthetic Everything®:
With almost 10 years in business, Aesthetic Everything® is the largest network of aesthetic and beauty professionals in the world. This is the seventh year that Aesthetic Everything® has presented hundreds of awards to deserving and hard-working professionals and companies within the aesthetic industry. The company's success is rooted in their over 200,000 aesthetic industry subscribers and over one million engaged social media connections.
Aesthetic Everything® has been featured in numerous publications including ABC, NBC, FOX, CBS, WSJ, Entertainment Tonight, Good Morning America, Radar Online, Haute Living, Life and Style, E! Online, Reality Tea, OK! Magazine, US Weekly, AOL, Naluda Magazine, Inform New York, Getty Images, Yahoo, Scottsdale Health, Modern Luxury Magazine, Pop Sugar and has also been mentioned in millions of websites and publications worldwide.
LEARN MORE ABOUT AESTHETIC EVERYTHING
---
Media Contact: Jamie Howder, Hospitality Skin Spa & Aesthetics, 909-890-9001, jamierileyfnp@aol.com
SOURCE Hospitality Skin Spa & Aesthetics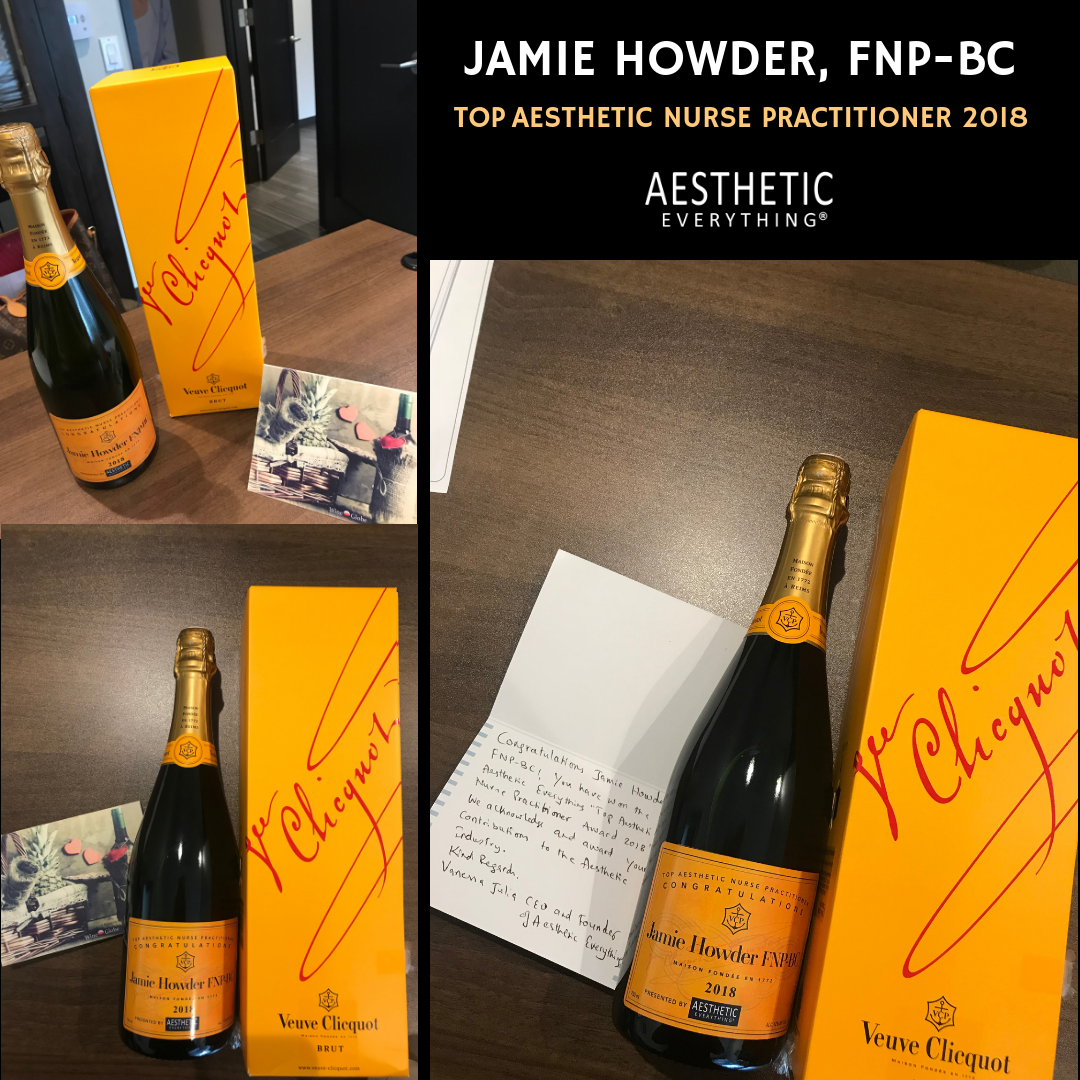 ---
Kind regards,
Aesthetic Everything Team