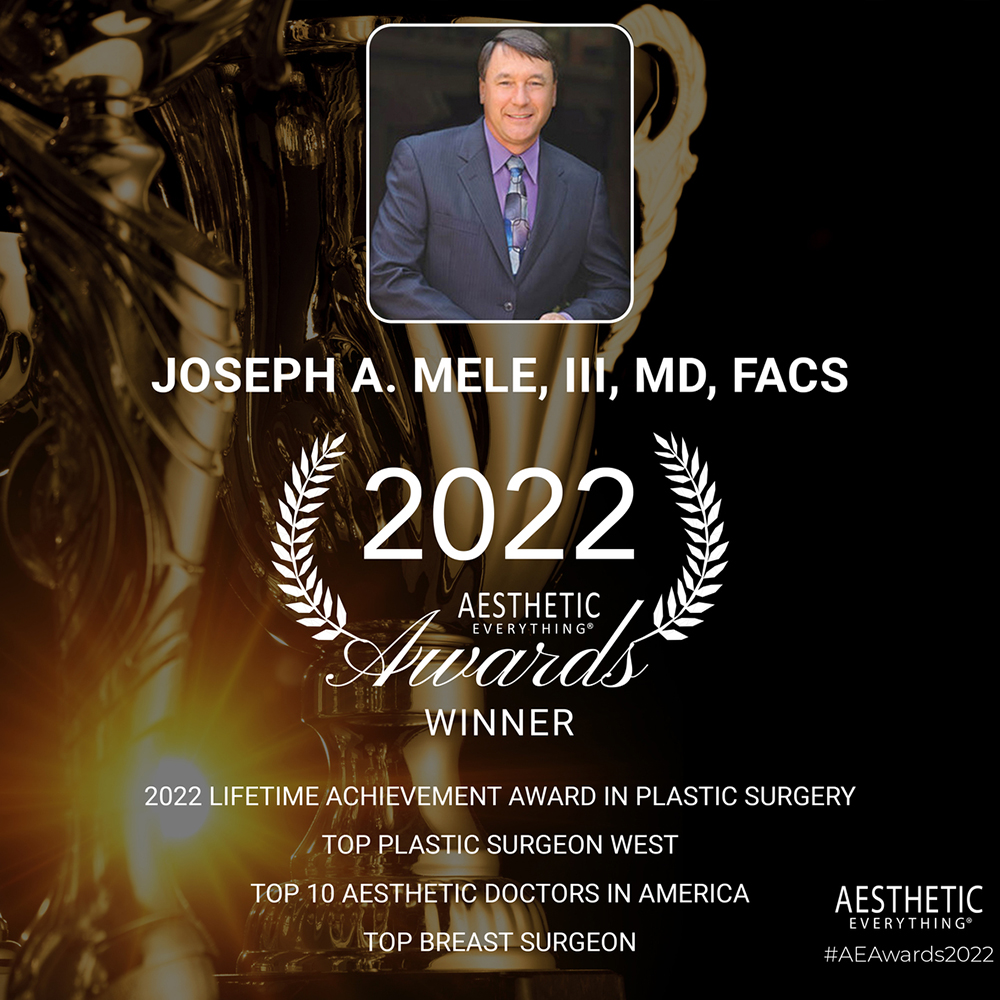 Walnut Creek, CA —- Joseph A. Mele, III, MD, FACS wins 2022 LIFETIME ACHIEVEMENT AWARD IN PLASTIC SURGERY, Top Aesthetic Doctor, Top Plastic Surgeon West and Top Breast Surgeon in the 2022 Aesthetic Everything® Aesthetic and Cosmetic Medicine Awards.
ABOUT Joseph A. Mele, III, MD, FACS:
Over the last 25 years, Joseph Mele, MD, FACS, has emerged as one of the premier cosmetic plastic surgeons in the San Francisco Bay Area. His specialties include breast augmentation, liposuction, tummy tucks, and facial rejuvenation, producing safe and predictable results with a mix of the cutting edge and the tried and true.
Dr. Mele's is central to the East Bay Area, with his office located in the San Francisco Bay Area city of Walnut Creek, CA, and about ten minutes from where he grew up. He was fortunate enough to receive all his training locally in Northern California and continues to enjoy the numerous outdoor activities the area is known for.
EDUCATION
After graduating with high honors in electrical and computer engineering from UC Davis, Dr. Mele was awarded the prestigious Regents' Scholarship to attend the UC Davis School of Medicine.
Dr. Mele completed his surgical internship at the University of California Davis Medical Center, in Sacramento, CA; his General Surgery Residency at San Joaquin General Hospital, in Stockton, CA; and sub-specialized with a Fellowship in Reconstructive and Cosmetic Plastic Surgery at Saint Francis Memorial Hospital in San Francisco, CA.
Dr. Mele maintains two board certifications and is certified by both the American Board of Plastic Surgery and the American Board of General Surgery.
AWARDS AND RECOGNITIONS
Joseph A. Mele, MD, FACS wins Top Plastic Surgeon West and Top Aesthetic Doctor in the Aesthetic Everything® 2020 Aesthetic and Cosmetic Medicine Awards.
University of California Regents' Scholarship
American Institute of Plastic Surgeons – 10 Best in California for Client Satisfaction
Consumers' Research Council of America – America's Top Plastic Surgeons Award
The Talk Awards – Award Category – California Plastic Surgeons – Excellence in Patient Satisfaction
Health Tap Top Doc – Top Plastic Surgeon in California for Demonstrated Expertise, Excellence and Care
RealSelf Top 100 Doctor
National Consumer Advisory Board – America's Best Physicians Award
Patients' Choice Award – One of California's Favorite Physicians
Vitals.com – Most Compassionate Doctor Award
Talk of the Town – Best Cosmetic
Business Hall of Fame – Cosmetic Plastic Surgery Best of Walnut Creek
SERVICES
Breast Aesthetics:
Breast Augmentation (Breast Implants)
Breast Lift (Mastopexy)
Breast Reduction
Breast Reconstruction
Inverted Nipple Correction
Areola Reduction
Gynecomastia (Male Breast Reduction)
Body Work:
Liposuction
Tummy Tuck (Abdominoplasty)
Arm Lift (Brachioplasty)
Thigh Lift (Thighplasty)
Post-Bariatric Surgery (Body Lifts)
Facial Plastic Surgery:
Face Lift (Rhytidectomy)
Neck Lift
Brow Lift
Blepharoplasty (Eyelid Surgery)
Double Eyelid Surgery
Rhinoplasty (Nasal Surgery)
Otoplasty (Ear Pinning)
Lip Augmentation
Chin, Cheek and Nasal Augmentation
Injectable Fillers (Restylane, Juvederm, Radiesse…)
Neuromodulators (BOTOX® Cosmetic, Dysport)
Chemical Peel (TCA Peel, Phenol Peel)
Laser Skin Resurfacing
To Learn More About Joseph A. Mele, III, MD, FACS, visit: https://www.drmele.com
Contact:
Joseph A. Mele, III, MD, FACS
130 La Casa Via, Walnut Creek, CA
(925) 943-6353
About Aesthetic Everything®:
Aesthetic Everything® is the largest network of aesthetic professionals in the world, and is the #1 promotion source for all information in the aesthetics industry. Aesthetic Everything has been handing out aesthetic industry awards for 13 years with over 10,000 awards given and over 900 million links to awards winners news and information in google search.
SOURCE Aesthetic Everything