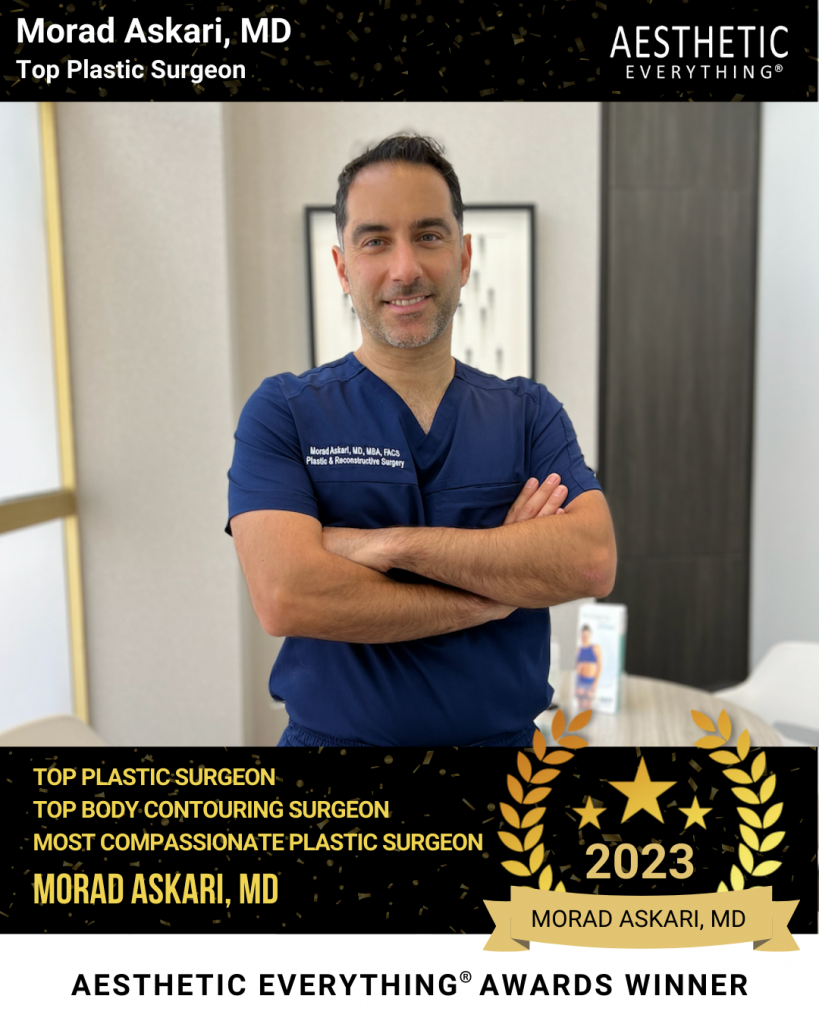 Coral Gables, Florida —- Morad Askari wins "Top Plastic Surgeon", "Top Body Contouring Surgeon", "Top Male Procedure Surgeon", "Most Compassionate Plastic Surgeon" and "Best Plastic Surgeon for After Weight Loss Skin Removal" in the 2023 Aesthetic Everything® Aesthetic and Cosmetic Medicine Awards.
ABOUT
Dr. Morad Askari is a board-certified reconstructive & plastic surgeon in Miami, FL, with over a decade of experience in plastic, cosmetic & reconstructive surgery. Dr. Askari believes in treating his patients with compassion and the highest level of care while making patient safety his number one priority. He trained at the University of Southern California in Los Angeles, where he worked with world-renowned surgeons in Beverly Hills and later completed one of his fellowships at the Mayo Clinic in Minnesota. He worked as an associate professor of plastic surgery for many years at the University of Miami. He has authored multiple scientific articles and book chapters in various areas of plastic surgery. Additionally, he specializes in reconstructive hand surgery and microvascular reconstruction after completing additional training in orthopedic hand & upper extremity surgery.
During his plastic surgery training, where he learned how to work on every part of the body and treat a wide range of conditions, Dr. Askari discovered his passion for reconstructive hand surgery. This led him to decide to continue studying and do extra years of training to master the art of hand surgery.
Patient safety is Dr. Askari's top priority. With his education, training, years of experience, and skills, he can consistently give his patients incredible results that align with their goals and expectations while keeping them safe at all times. To assist him during surgery, Dr. Askari uses State-Of-The-Art surgical equipment, such as ultrasound, for his ultrasound-guided BBL; this allows him to provide excellent results without compromising his patients' safety.
Dr. Askari as a board-certified plastic surgeon has learned how to treat the entire body with cosmetic, general, and reconstructive surgeries. During his training, he learned a wide range of services and specialized for additional years in reconstructive hand surgery and microvascular reconstruction. He has trained at the Mayo Clinic and with world-renowned surgeons in Beverly Hills, which taught him a lot about surgical skills and values. Dr. Askari has over 10 years of experience and provide his patients with incredible, long-lasting results that align with their goals and expectations while keeping them safe at all times.
Dr. Askari values his patient safety above anything else. He will ensure that the surgery is tailored to his patient and will access their current and past medical history. He also follows every guideline the FDA, American board of plastic surgery, etc., are putting in place, such as performing Ultrasound Guided BBL.
Dr. Askari follows and respects patients' goals & expectations. He will offer his guidance based on his patient's concerns. Respecting them and their bodies is his main goal.
EDUCATION
Medical degree from University of Pittsburgh School of Medicine – 2004
General surgery & plastic surgery training at the University of Southern California – 2004-2010
Fellowship at the Mayo Clinic – 2010-2011
Associate professor of plastic surgery – 2011-2017
AWARDS AND RECOGNITIONS
Sigma Theta Tau International Honor Society of Nursing
Board Certified in Aesthetics by The American Academy of Procedural Medicine
The Dean's Grievance Committee – Phillips School of Nursing At Mount Sinai Beth Israel
Research Fellow – Phillips School of Nursing At Mount Sinai Beth Israel
Honorary Society – Phillips School of Nursing At Mount Sinai Beth Israel
Elite Athlete Part of the Greek National Fencing Team 2004-2016
SERVICES
Dr. Morad Askari specialize in cosmetic, reconstructive and hand surgery.
He specializes in cosmetic and plastic surgery for men, women, and patients that had massive weight loss. He offers face, body, and breast/chest surgeries.
Dr. Askari's cosmetic surgeries include Mommy Makeover, Liposuction, Brazilian Butt Lift, Tummy Tuck, Thigh Lift, Arm Lift, Breast augmentation, Breast Lift, Breast augmentation and lift, Breast Reduction, Breast reconstruction, corrective breast surgery, Rhinoplasty, Facial Implants, Facelift, Neck Lift, Forehead Lift, Eyelid surgery, After Massive Weight Loss treatment, and male makeover, male bbl, male ab etching, and Gynecomastia.
Reconstructive surgeries include skin grafts, facial laceration repair, scar revision, burned victims' skin surgeries, cyst removal, non-healing wounds, surgical flaps, and more.
Hand surgeries include Carpal tunnel syndrome correction, Tendinitis correction, Fracture of fingers, hand, wrist, and forearm treatments; Arthritis of the hand and wrist correction, Tendon and Ligament injuries treatments; fingers injuries treatments, and more.
To Learn More About Dr. Morad Askari, visit: https://revivesurgery.com
Contact:
Dr. Morad Askari
2828 Coral Way suite 103, Coral Gables, Florida 33145
(305) 600-5041
About Aesthetic Everything®:
Aesthetic Everything® is the largest network of aesthetic professionals in the world, and is the #1 promotion source for all information in the aesthetics industry. Aesthetic Everything has been handing out aesthetic industry awards for 14 years with over 10,000 awards given and over 900 million links to awards winners news and information in google search.
SOURCE Aesthetic Everything
Related Links