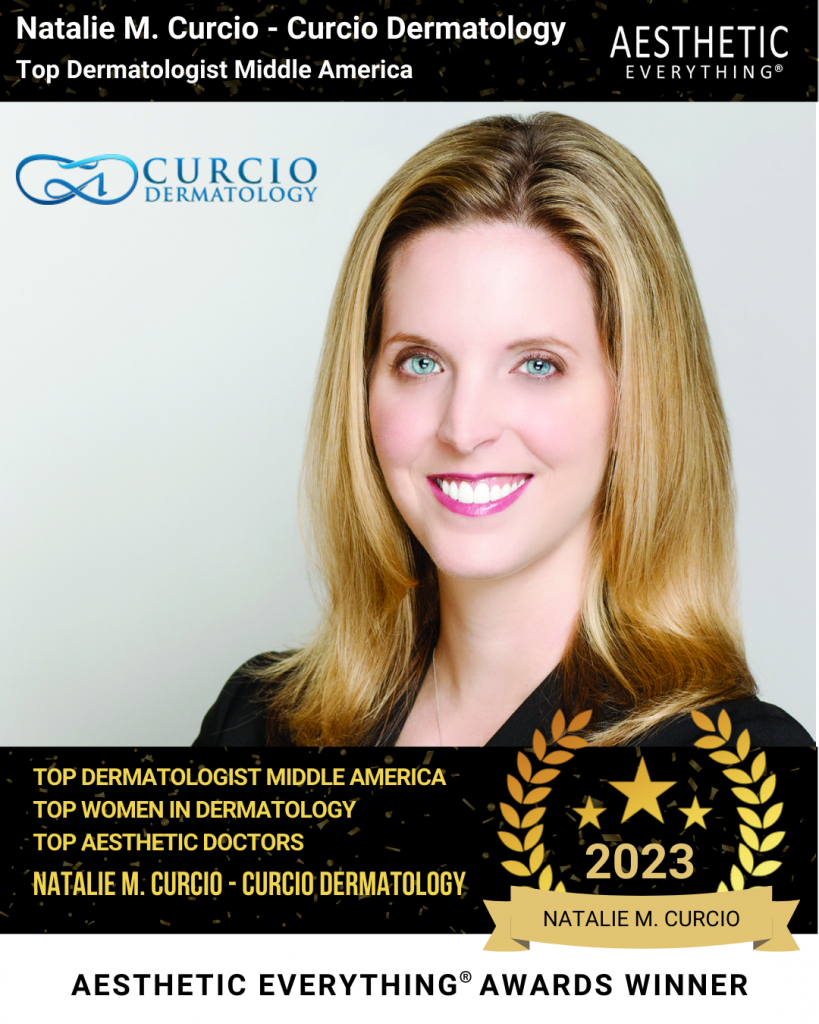 Nashville, TN —- Natalie M. Curcio, MD, MPH, MMHC wins "Top Dermatologist Middle America", "Top Women In Dermatology" and "Top Aesthetic Doctors" in the 2023 Aesthetic Everything® Aesthetic and Cosmetic Medicine Awards.
ABOUT Natalie M. Curcio, MD, MPH, MMHC:
Curcio Dermatology is Nashville's premier dermatologic surgery and skin rejuvenation center, providing outstanding medical care with professionalism and full attention to patient comfort. We provide the latest medical technology, the newest lasers and devices, and most current treatments in a state-of-the-art facility in the heart of Green Hills.
After training extensively at Vanderbilt, completing two fellowships in Birmingham, AL, and San Francisco, CA, and working in the greater Los Angeles area, Dr. Natalie Curcio excels at appreciating both east coast and west coast beauty across different ethnicities. She is one of few fellowship-trained Mohs surgeons in middle TN and the only dermatologist who is fellowship-trained in Dermatologic Cosmetic & Laser Surgery.
She believes in a patient-specific approach to aesthetics and anti-aging, as well as Mohs surgery and reconstruction. She relies on a combination of treatments and procedures to offer customized plans and individualized results. Dr. Curcio is multi-lingual and has been a speaker nationally and internationally on Cosmetic Dermatology, Fillers, Neurotoxins, Lasers and Mohs Surgery.
Dr. Curcio is an Adjunct Assistant Professor, Department of Health Policy Vanderbilt University School of Medicine
EDUCATION
Dr. Curcio graduated Summa cum laude from Vanderbilt University with a Bachelor of Arts in Spanish Literature and earned a Doctor of Medicine and Master of Public Health from Vanderbilt University School of Medicine. She completed a residency in Dermatology at Vanderbilt University Medical Center. In addition, Dr. Curcio completed two prestigious fellowships – one in Dermatologic Cosmetic & Laser Surgery at UCSF, in San Francisco, CA with Richard Glogau, MD and Roy Grekin, MD and the other in Procedural Dermatology/Mohs Micrographic Surgery in Birmingham, AL with Gary Monheit, MD.
AWARDS AND RECOGNITIONS
Dr. Curcio has been named a "Top Doctor" in Dermatology by Castle Connolly from 2017 through 2022. Curcio Dermatology and Dr. Curcio were voted the Best of Music City in 2020 and she has received the Exceptional Women in Medicine Award since it's inaugural debut in 2019. In 2019, Dr. Curcio was named one of the Women in Business honorees by Nashville Lifestyles. Dr. Curcio was also one of Nashville's 40 Most Influential People Under 40 in 2018.
She serves on the ASDS Membership Work Group, the ASDS Product and Service Development Work Group, and is an ASDS Annual Meeting Abstract Reviewer. In addition, she serves on the AAD Melanoma Advisory Task Force and the ACMS NRO Mohs Log Subcommitee. She has previously served on the ASDS Young Dermatologic Surgeons Work Group and the ASLMS Ethics and Conflict of Interest Committee. In addition, Dr. Curcio was awarded the AAD 2013 International Travel Grant to Chile and attended the AAD 2014 Leadership Forum, where a select number of invited dermatologists train to become leaders in the field and advance the specialty. Dr. Curcio has been named a 2016-2017 "Top Doctor" in Dermatology by Castle Connolly. She is a reviewer for the Journal of Dermatologic Surgery, Journal of the American Academy of Dermatology and is a reviewer and serves on the editorial board for SKINmed.
Dr. Curcio lectures nationally and internationally and has contributed journal articles to the medical literature. She is multi-lingual and speaks Spanish, French, Portuguese and Italian and has lived, studied, and worked overseas.
SERVICES
Acne Scarring
Body Contouring with Radiofrequency
Complexion Analysis & Total Body Photography
Fractional Laser Resurfacing (Ablative):
Fractional Laser Resurfacing (Non-Ablative)
Intense Pulsed Light (IPL)
Hyperhidrosis Treatment
Laser Hair Removal
Laser Vein Therapy
Microneedling
Mohs Micrographic Surgery
Photodynamic Therapy
Skin Tightening with Radiofrequency
Surgical Excision
Vascular Laser Therapy
Botox®, Dysport® and Xeomin®
KYBELLA™
Bellafill®
BELOTERO®
JUVEDERM® Ultra XC, JUVEDERM® Ultra Plus XC
RADIESSE®
Restylane®, Restylane® Silk, Restylane® Lyft
JUVEDERM VOLBELLA® XC
JUVEDERM VOLUMA® XC
To Learn More About Natalie M. Curcio, MD, MPH, visit: https://www.curciodermatology.com
Contact:
Curcio Dermatology
2125 Bandywood Dr
Nashville TN 37215
(925) 943-6353
About Aesthetic Everything®:
Aesthetic Everything® is the largest network of aesthetic professionals in the world, and is the #1 promotion source for all information in the aesthetics industry. Aesthetic Everything has been handing out aesthetic industry awards for 14 years with over 10,000 awards given and over 900 million links to awards winners news and information in google search.
SOURCE Aesthetic Everything
Related Links