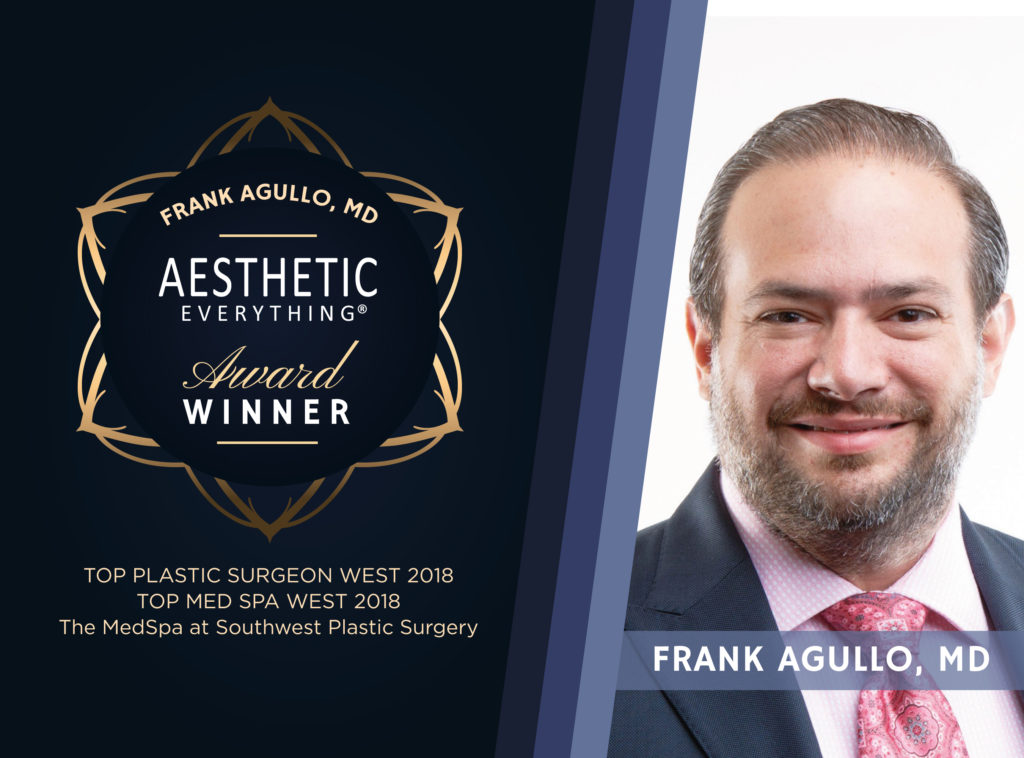 Frank Agullo, MD and The MedSpa at Southwest Plastic Surgery Receive Top Honors in 2018 Aesthetic Everything® Awards
Frank Agullo, MD Wins Top Plastic Surgeon West among other awards
READ CISION RELEASE FOR TIMES SQUARE
---
EL PASO, Texas, Oct. 17, 2018 /PRNewswire-iReach/ — Frank Agullo, MD and The MedSpa at Southwest Plastic Surgery receive Top Honors in The 2018 Annual Aesthetic Everything®Aesthetic and Cosmetic Medicine Awards. Dr. Agullo was voted "Top Plastic Surgeon West" and "Top 100 Aesthetic Doctors" as well as "Top Medical Spas West" going to The MedSpa at Southwest Plastic Surgery.
"I and the whole team at Southwest Plastic Surgery are honored and elated to receive the Best Plastic Surgeon West 2018 Aesthetic Everything Aesthetic and Cosmetic Medicine Award. It is a reflection of our strive for excellence." Frank Agullo, MD – President Southwest Plastic Surgery
This year's Aesthetic Everything® Aesthetic and Cosmetic Medicine Awards tapped winners from over 30,000 votes cast. Voting was held online between September 1st and October 1st, 2018. All votes were counted to obtain the list of winners. The Award winners for excellence in the field of Aesthetics span the categories of Companies, Products, CEOs, Presidents, Executives, Doctors, Med Spas, Aestheticians, Nurses, Staff, Services, Training, Publications, Meetings, Charity, Videos and more.
ABOUT Frank Agullo, MD:
Frank Agullo, MD, FACS was born in San Juan, Puerto Rico. His life journey has taken him to many destinations. After obtaining his MD degree from Universidad Anahuac in Mexico City, he trained in general surgery at Texas Tech University Health Sciences of El Paso. He then completed plastic surgery training at the prestigious Mayo Clinic in Rochester, Minnesota. Dr. Agullo is a board-certified Plastic Surgeon based in El Paso, Texas. His Plastic Surgery practice covers both reconstructive and cosmetic fields.
Dr. Agullo has extensive experience in breast, face and body procedures. Dr. Agullo is amply experienced in the reconstructive field of Plastic Surgery, such as reconstructive surgery of the breast, congenital malformations of the ear, cleft lip and palate. With an eye for innovation and improvement of each patient's outcome Dr. Agullo offers hair restoration surgery in combination with an emerging new treatment known as PRP, platelet rich plasma. PRP therapy stimulates healing of soft tissue and improves the overall outcome of the hair transplant procedure, achieving wonderful and natural looking results.
Dr. Agullo has an extensive number of publications and presentations in the field of Plastic Surgery at both national and international levels. He was included in Plastic Surgery Practice's publication of Best Plastic and Cosmetic Surgeons as a Rising Star Superdoctor in Texas Monthly. He has been invited to share his expertise on body contouring nationally and internationally, the latest at The Aesthetic Meeting in New York City and the Buttock Contour World Congress in Sao Paolo, Brazil.
Dr. Agullo's Plastic Surgery practice was voted "Best of the City" for Cosmetic Surgery in 2013, 2014, 2015 and 2016 and "Best of the Best" in 2017.
Dr. Agullo has an incredible Snapchat following. Big reveals (like having patients take off their splints following a nose job) give Snapchat followers an instant view of before and after results, as well as a condensed version of everything that happens in between. When Snapchat users add @RealDrWorldWide on their apps, they can get a real life look into mommy makeovers, liposuction procedures, Brazilian butt lifts and tummy tucks.
As his handle name suggests, Dr. Agullo often travels worldwide, attending seminars, networking with other plastic surgeon specialists, and engaging in personal travels. Dr. Agullo attended the 23rd ISAPS (International Society of Aesthetic Plastic Surgery) Congress in Kyoto, Japan. Even there, he was busy sharing quick Snapchats about his trip, and giving his social media followers an inside peek at Japanese culture.
Dr. Frank Agullo founded The MedSpa at Southwest Plastic Surgery offering two locations, serving the entire Southwest, including El Paso, Western Texas, New Mexico, Chihuahua and Juarez. Dr. Agullo, with his team of health care professionals, provides services in English and Spanish, reflecting the international nature of the practice and patients.
The MedSpa at Southwest Plastic Surgery has Allergan Nurse Trainers and the nurse injectors were recently recognized by RealSelf as Top 5% Injectors. Our highly trained certified medical aestheticians are passionate about skincare as they aim to provide patients with knowledge and tools to achieve long lasting results, transcending into customized skincare regimens and treatment plans that are tailored to individual needs.
Aside from being a prestigious plastic surgeon, Dr. Agullo has demonstrated to be a great mentor and leader to his Southwest Plastic Surgery team by providing the resources to obtain and attend the best trainings; rewarding them by providing the opportunity to grow and believing in them, encouraging them to accomplish more. In light of this, his staff is equipped to work hard to make sure his patients have the highest quality plastic surgery and cosmetic treatments available.
Without a doubt, it has been his hard work, dedication and passion that make Dr. Agullo such a unique and extraordinary human being and Plastic Surgeon. Despite his unquestioned success, Dr. Agullo remains humble about his accomplishments. He continually strives for brilliance and unconditionally shares a smile, a quality often recognized by those who surround him.
To learn more, please visit www.agulloplasticsurgery.com or www.swplasticsurgery.com.
VIEW FEATURED MEMBER PROFILE: https://aestheticeverything.com/listing/dr-frank-agullo-the-medspa-at-southwest-plastic-surgery/
About Aesthetic Everything®:
With almost 10 years in business, Aesthetic Everything® is the largest network of aesthetic and beauty professionals in the world. This is the seventh year that Aesthetic Everything® has presented hundreds of awards to deserving and hard-working professionals and companies within the aesthetic industry. The company's success is rooted in their over 200,000 aesthetic industry subscribers and over one million engaged social media connections.
Aesthetic Everything® has been featured in numerous publications including ABC, NBC, FOX, CBS, WSJ, Entertainment Tonight, Good Morning America, Radar Online, Haute Living, Life and Style, E! Online, Reality Tea, OK! Magazine, US Weekly, AOL, Naluda Magazine, Inform New York, Getty Images, Yahoo, Scottsdale Health, Modern Luxury Magazine, Pop Sugar and has also been mentioned in millions of websites and publications worldwide.
LEARN MORE ABOUT AESTHETIC EVERYTHING
---
MEDIA CONTACT:
BEL ADKINS
Bel@swplasticsurgery.com
915-590-7900
Media Contact: Vanessa Julia, Aesthetic Everything, 310-754-0257, vflorez@icloud.com
SOURCE Aesthetic Everything
---
Kind regards,
Aesthetic Everything Team